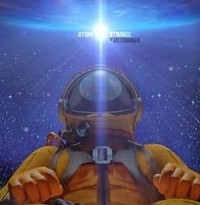 ATOM STRANGE formed in 2006 with musicians Alex Rude and Rick Dunn. They shared a vision of forming a rock band that was inspired by science fiction, true life, and the absurd, and intentionally tries to avoid the clichés normally heard in the hard rock genre. The band now has several albums to their credit and are surging yet again in the New York area. Band members include: Rick Dunn (vocals), Alex Rude (Guitars), Vinnie LaRocca (Drums), Dave Kuhn (Bass). This latest 12 Track release is entitled "The Lost Cosmonaut."
There's a real sense of cathartic musical independence here via this latest work from this hot running band from New York. While everything here on this 12 track set entitled is shall I say exceptionally entertaining it also manages to cover a pretty wide range of musical styles as well. When you listen to the music of Atom Strange I can hear so many influences and styles ranging from Alice in Chains, ASHES Divide, Peach and even Isis. More influences are perhaps: Tool, STP and Godsmack. But it needs to be said that the real magic is how Atom Strange manages to blend all these above ingredients into their own signature sound. These guys obviously encompass the rich history of Progressive Hard Rock roots, then broadens and reshapes it into something youthful, intellectually stimulating reckless and very passionate and yes sometimes out of control. Dunn sings about things he cannot control. All this and more makes these new songs extremely refreshing and uniquely brilliant. A few tracks notably stand out for me in particular. "Tragedy" and "Looking Glass" are 2 very strong tracks that deliver pure grooved magic and an impressive writers touch. Much of the 12 track CD present straight forward Alternative rock that is like I said before – about topics that are close to the heart – a thinking man's rock. Despite this somehow the music has a more of a rocking 90's feel as the album hits the deck running. These cats are definitely a modern example of classic psychedelic-alternative rock popular in the 70's, 80's and 90's. I can hear acts like Dream Theatre and King Crimson in the core. I like the outer space vibe.
Above all there is an underlying yearning theme going on. As a result this style of music was not so easy to pigeonhole for me, however I suspect many of the previously mentioned bands have had an influence. The musicianship is shall I say, off the chain. The vocal front from Dunn is intense and as gravitating as the music. Dunn really draws you in emotionally and I'm convinced he know what he's doing as he displays emotions behind a microphone. Another highlight for me is "Synestheziac" and "Neverwas" which to me exemplifies their sound to a T. It's got plenty of cool guitars riffing, bass playing that sits deep in the pocket but above all it shows just how far these cats masterfully navigate with sheer precision through this simplistic yet amazing writing style. All members demonstrate their individual musical talents and abilities as well without being to over the top about it. This is hard to do then it sounds. Some bands come across as being to simplistic – not these guys. I get the impression these cats are a blast to see live in a small intimate live setting.
So are you thinking what I'm thinking? Somehow all the above is not compatible with the superficial musical times we live in? Atom Strange is well-suited for a wide audience that enjoys emotionally driven Alternative Rock with a Progressive-Ultra Dynamic flair, amazing writing and a good lean look (Dunn) and sound. Expect great things from this hot band from New York as the fanbase explodes past The Big Apple this summer. I believe there's a detached and disgruntled audience just waiting for them to arrive.
URL: http://www.atomstrange.com/
Score: 4/5 stars
PURCHASE LINK: https://itunes.apple.com/us/album/the-lost-cosmonauts/id708769501
Josef Santana