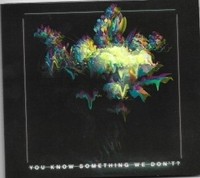 Vancouver rockers "Sex With Strangers" seem to making all the right moves. Working hard, releasing music, hitting the pavement. Make no mistake about it these 5 from Canada appear to be surging and are quickly becoming a household name – North and South of the border. For a 5 piece band like Sex With Strangers it's not so much about them as much as it about launching a musical revolution that's primarily rock based.
Sex With Strangers are: Hatch Benedict – vocals, keyboards, Mike Gentile – bass, Alexis Young – vocals, keyboards, Cory Price – guitar and Dan Walker – drums
Being on a global platform would allow them to do so precisely that and will be good for this genre. Straight away it's clear this 10 track CD called "You Know Something We Don't" is an imaginative return to passion filled melodic alt rock meshed with the better musical touches of today's melodic rock. There's even traces of Hard Pop. From the beginning Sex With Strangers remind me a bit of Radiohead, Them Crooked Vultures and even, Desert Sessions. But to me they sound like a combination of 2 of my favorite bands Modest Mouse and a modern version of the Pixies. Today's music has many people feeling of bit of soullessness – how appropriate I get a CD like this that ventures into mysterious, uncharted territory like the title implies. These 5 clearly showcase experienced playing, writing and performing. The album begins in epic fashion with the magnificent "Hostages" which is a crisp raid on the senses, packed with hooks, melody and an impressive feel. Benedict and Young share dual vocal duties. The only surprise is that some of these pieces aren't featured on Prime Time Radio or synched into a major motion picture – it's that powerful. "22" and "Pink Sock" follow and is are tripped out musical statements with melodic guitar and hot to the touch vocal tandem solidifying what is in fact the best territory on the CD. Why does Benedict remind me of Jack Black? "Slaves to the Night" makes another great impression and is an exceptionally rocked out piece showcasing these 5 and their playing styles as a tightly knit unit.
My favorite tracks are: Pink Sock, Falling Over, Space Wolf, and 22.
I like everything about Sex With Strangers with priceless harmonies, lyrics and rock solid vocal feel that pushes hard. Benedict is a mad man! Kudos goes out to vocals from both Benedict and Young. The thing I liked the most about Sex With Strangers is the emotionally charged power you get from them via their songs. In the end these 5 are a real breath of fresh air and a shock to everyday musical system presently in place. In summary: "You Know Something We Don't" by Sex With Strangers unleashes everything good about progressive alt rock – the new and the old. Out of the whole CD a few songs are in the category of brilliant, 8 of them are good, and there are only 1 I'd find myself wanting to skip in rotation. I wouldn't be surprised if these 5 continue to get more popular globally. Canada has proven this is one of the best places for this style of music lately. It's also a great demographic to springboard a musical career from – especially in a live setting around that region. Need I say more – let get the revolution started already.
Rating 8/10 Stars
URL: http://www.sexwithstrangersmusic.com/
by Rob Cowan