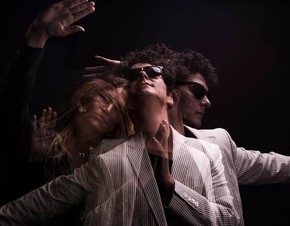 They say love conquers all and sometimes it also creates a wonderful fusion. That would be the case for Jennifer Thorington and Sam Markus, the two talented individuals who combined their musical skills and formed the group The Morning Birds. Their devotion to each other and mutual respect gave birth to the group in 2011.
Jennifer and Sam soon went to work in their home studio and put together thirty two tracks. They decided to release twenty two of the songs as The Quickening album and the rest as an accompanying B-Sides. This would lead to their first EP Surrender To This in 2012. Jennifer, whose voice is like an electric current, had many influences growing up:
"I used to sing to Cyndi Lauper when I was younger and would get all the neighborhood kiddies together to perform for the adults. There is tons footage of this I am hoping to use it for a music video in the future! I also loved Boy George, Fiona Apple, Elvis, The Beatles, Imogen Heap and many more – the influence list goes on forever!"
The band began to see some love when it charted on "The Deli's Indie Rock Charts" for their single "Born to Be Alive" from Surrender to This, and soon after they were voted in the Top 5 emerging artists of Los Angeles in 2012. For both Sam and Jennifer it was a big step in the right direction. This was evident when they noticed that they were receiving airplay overseas. It all started in Europe on a station in Serbia and began to filter to other countries. The group also released a video on YouTube around the same time, called "It's Then You'll Know". That particular video passed a half a million views an impressive milestone for a new band. You can catch the video at http://youtu.be/DJhOses8Dws.
TMB is also a part of the newly formed independent label Funky Island House Records, which the couple hope to use as a platform to release future Morning Birds music as well as select releases from the bands they love. The common groove amongst their roster is excellence in creativity and production. As they have stated, "We are on an island of our own, representing an eclectic array of musicians and bands… The ones we couldn't live without on our island of paradise."
Currently, the band released a new single, entitled "Indian Summer Bloom", which was remixed by top Hypem charting DJs, Dimond Saints. Jennifer and Sam began the project searching for remixers and eventually rounded up a talent pool and went to work. The BLOOM EP actually came to be as they were setting up their upcoming full-length album. It ended up becoming a collaborative project as they began weaving it together and it would end up being their top grossing EP.
TMB has toured the East Coast into Canada in the beginning of their mission and have also performed in LA at House of Blues, Hotel Café and Kohoutek Festival with Phantogram. Samuel has performed at the Wiltern, opening for Cat Power prior to meeting Jennifer.
The talented couple is currently working in the studio in anticipation for a new LP release in 2015. This one will be their very first pure studio album. One that is due to be another chart topper. Keep up with TMB by visiting http://www.themorningbirds.com.
by Nick Christophers