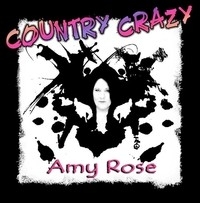 The opening track " Country Crazy" starts off with a great high energy. There are good instrumentals, Amy Rose's voice adds to the song very nicely. I like the country/pop sound she has! At first I was really into track two, "I Just Want You To Know." Then, as I listened more and more to it I realized this is a cover from Backstreet Boys 2005 release of "Want You to Know." She did very well at making it so much of her own style that at first I didn't recognize that it was a cover. She has a great voice, at this is a good song overall!
Primary URL: http://amyrosemusic.com/
The third track is (Redneck Reunion) "Party Like A Redneck." This song is upbeat and fun and reminds me of a good time old country song. Rose definitely showcases her great country twang in her voice. It's a good song to listen to with friends over drinks. Track four "Sunshine" is by far my favorite song. It has a very pretty melody and instrumentals. I love the lyrics in this song. This includes such strong vocals.
I was very impressed with the showing of Rose's talent and range on these four tracks. The album is great and I definitely plan to tell my friends about this one.
by Laura Turner
Rating 1-10 is a strong 9
Purchase Link: http://www.cdbaby.com/Artist/AmyRose2