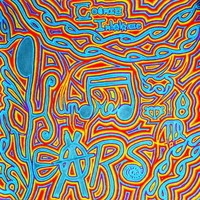 A Hundred Years is a trio of avowed "creepy dirtbags" from Edmonton. Purveying a genre known as "psychedelic badlands rock," this group of malnourished, long-haired misfits has – since its inception in early 2012 – acquired a reputation for maniacally intense live shows, be they underground or otherwise. As front man Jeremiah Simmons remarks, "We go crazy with energy."
Drawing on such unconventional influences as "desert rock from California," the band has released an album called Cosmic Imbalance.
The track "420 AD" launches on a highly percussive note. Did something historically significant take place in 420 AD, or is the title simply some cannabis reference? Either way, the vocals are as low and masculine as Barry White. It's like he's singing from the bottom of some remote California cave where Chuck Manson used to conduct his orgies. By the way, the Cosmic Imbalance album cover looks both psychedelic and evil, like something "the family" would design.
With the track "Repo Man," it occurs to me that Simmons sounds somewhat like Danzig. In some ways, it's a husky wholesome voice, the kind that could sing those 50s malt shop ballads, but instead embarked on the torturous path of 'desert rock'.
I suppose "The Big Other" is a ballad of sorts, albeit one with crazily crooked bass lines.
The track "Strange Days" begins with a sound that is both pleasing and highly distorted. A nifty and warped little solo takes place around the 3:00 mark.
There is something vaguely haunting about the intro to the track "Jaguar." For me, it evokes images of some demented drifter on a desert highway.
This haunting feel definitely sustains itself into the first minute of the track "Tadpoles," with its slow and solemn instrumental component. After the 1:00 mark, however, there arrives a punishing percussion segment.
Am a fan of the guitar ditty that opens "Cold Night on the Bayou." Same could be said for the whole instrumental score on "Colorado."
What exactly happens when a 'cosmic imbalance' transpires? Find out at: https://itunes.apple.com/ca/album/cosmic-imbalance/id805664500
Movie time at: https://www.youtube.com/user/simmonsjeremiah13
Further listening at: http://www.reverbnation.com/ahundredyears
Ray Cavanaugh – owleyesgatsby@yahoo.com