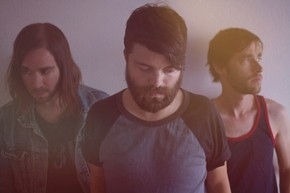 Today, Soft Swells are thrilled to announce their sophomore album Floodlights out September 30 on Modern Outsider Records. Floodlights will be available on CD, LP and digital download and available for pre-order here. Soft Swells are sharing their first single "Floodlights" the title track from the album on SoundCloud now.  The band has booked a September residency at The Echo in Los Angeles playing every Monday from September 1 to September 22.
LISTEN TO "FLOODLIGHTS" ON SOUNDCLOUD
https://soundcloud.com/modernoutsider/soft-swells-floodlights/s-V1TRd
Soft Swells is not only their band name, it's a surfing term used to describe tiny, easy to ride waves that beginners keep an eye out for to help build their skills. Much like moving on from soft swells to bigger waves, Tim Williams, the mastermind behind Soft Swells has been moving towards his own type of bigger moment for years now.  Tim started Soft Swells in an effort to reach new heights, and following the release of their debut full-length Soft Swells in 2012 and their follow-up EP Lifeboats in 2013, the music has gotten more sophisticated and the sound of the band has gotten bigger. Floodlights is the big moment Soft Swells has been seeking and they have grown in every way imaginable. Where once there was just Tim with the help of producer/keyboardist Dave Lynch and a lot of studio magic, there is now a fully formed band.