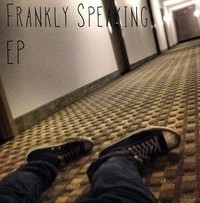 Frankly Speaking is the brainchild of Jordon Schneider, a Cincinnati native who, upon taking a music degree, headed to Los Angeles, where he: recorded two albums, appeared on CD compilations with such acts as Lifehouse, and earned a nomination at the 2007 L.A. Music Awards. Having since returned to his hometown, he has performed on Opening Day of the Cincinnati Reds.
Drawing on such influences as Coldplay and Guster, Schneider renders guitar, harmonica, piano and vocals at gigs across the city. We now have an eponymously titled EP.
The songs are straightforward and unpretentious. Schneider has fluid delivery, be it by vocals or instrument. Lyrically, there's a touch of the world-weary, but nothing so bleak as to demand a dose of Prozac.
The beginning of the track "Just a Kid" offers an engaging acoustic riff. There's quite a bit of heart in this song, and it stirs up feelings of the nostalgic. Am especially smitten by the vocals in the latter part.
"You & Everyone Else"
http://youtu.be/ZXKprPjBybw
The other song that captures me is "Runaway." There's a touch of the poet in this track. The speaker realizes that he is utterly attached to his current situation: "If I could run away and not look back / My heart would stop me in my tracks."
This song could resonate with a lot of people who feel like they want to try a new life somewhere, but also realize that they couldn't abandon what they already have: "Stuck in this town, I choose to be / Afraid of leaving my own history."
Is this song autobiography? Is Mr. Schneider speaking of his beloved Cincinnati, to which he has returned after having forsaken it for the glitz of Los Angeles? Perhaps I over-speculate here.
To indulge in additional speculation: I see this EP making a fine soundtrack for a coffeehouse atmosphere.
Must say, I like the album cover. Not graphically complex, but it conveys quite a bit of emotion.
Check it out (along with the music) at: https://itunes.apple.com/us/album/ep/id701279886
And an ample supply of information can be obtained at: http://www.franklyspeakingmusic.com/
 
Ray Cavanaugh – owleyesgatsby@yahoo.com