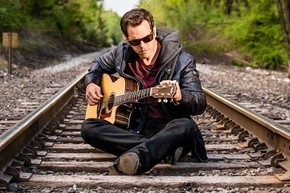 Hello to all music loving people of this fine planet earth. This is the first post of summer, 2014. So I was shocked and saddened to hear Google will burn its bridges with independent record labels and pull their music videos from YouTube, the advertising giant has told its favourite newspaper, the Financial Times. If this is true I imagine people will turn to Vimeo or another outlet will rise up, lets pray. I am so sick of independent artists being treated like second rate musicians, we all must unite! In other news, Chromeo members Dave 1 and P-Thugg have announced their partnership with Canadian airline Mallard Air as prime equity holders in the company. I love when I see artists diversify and profit in various industries along with music. I am so happy to have Peter Kelly on Skoped Out today. Peter is busy as "Fear of Landing," the first single from his upcoming EP, has been released and is available for download in the peterkellymusic.com music store and iTunes.  Along with the release of the song, Peter's first official music video for "Fear of Landing" is also now available for viewing here. This song is a hit and I cannot wait for the EP soon too. Join us as Peter speaks on Berklee College of Music in Boston, the single "Fear Of Landing", violence in the Middle East, and so much more!
Stoli: Where are we talking from today and how is summer in NYC?
 
We are talking from just outside Manhattan in Yonkers, NY – it's a great town situated along the Hudson River.  The summer has been pretty mild so far.
 
Stoli: When did you fall in love with music and when did music become more than just a hobby?
 
The first music that caught my attention was the stuff my parents would listen to.  I remember hearing Elvis and the Beatles and I knew every word to "The Gambler" by Kenny Rogers.  When I was about nine, I decided I wanted to learn guitar after seeing a Bon Jovi video on MTV.  By the time I was thirteen I was recruited by my first band, an all kids group that played music from the 50's and 60's.  We performed regularly and played some big shows opening for oldies acts like the Coasters and the Shirelles.  The experience of playing live with a band is where my real desire to make a career in music began.   
  
Stoli: You graduated Berklee College of Music in Boston. How did that education help you as a musician and what did you major in? 
 
I was a Guitar Performance major and I spent hours in my room trying to become a "guitar god" like Steve Morse or Eric Johnson.  It wasn't till the end of my four years that I made my transition into a singer/songwriter.  Berklee was an amazing environment because of all the musicians and different styles of music I was exposed to.  I think the academic approach to music can sometimes have the wrong effect on ones creativity if not presented properly.  There were some teachers like Jon Finn and Bobby Lee Rodgers who took a personal interest in what I was doing and pushed me to develop my style as a writer and musician.  
"Fear of Landing" video: https://www.youtube.com/watch?v=mQIysFmp05k
Stoli: You released your new single "Fear Of Landing." How has the response been so far and when did you write & record that song?
 
"Fear of Landing" was just released in early June and we are loving the response from fans.  I wrote this song about two years ago after going through some rough times with friends who were dealing with serious addiction issues.  Their struggle saddened me and made me want to bring awareness of addiction without judgement.  It was one of the first songs my producer John Campos and I began working on for my new EP a little over a year ago.  I believe that "Fear of Landing" is our best work to date and now we just want the entire world to hear it. 
 
Stoli: I love the video for "Fear Of Landing." Who did you work with on that and how does the video represent the song?
 
John and I made the "Fear of Landing" video ourselves with the help of his daughter Katira and my girlfriend Tayana.  Armed with hand held cameras and iPhones, we shot some footage around New York and Boston with no idea what we were doing. "Fear of Landing" is a song about a person in so much pain that they are afraid to come down from their high and face life with a clear head.  My girlfriend plays the character who appears to be lost and struggling to escape her past. There are shots of me performing in different settings including an above angle from a window that overlooked Union Square to suggest someone looking down on me.  People seem to like the scene near the abandoned building which we refer to as "The Devil's Den."  We wanted that setting to symbolize the characters chaotic past. There are some quick shots of me playing my guitar in the middle of the street with traffic moving on either side of me.  Though it looks cool on camera, I wouldn't recommend standing in the middle of a New York City street unprotected.   
 
Stoli: What kind of mood and setting must you be in to write and record music? 
 
I am constantly singing ideas into my phone and scribbling on paper but my most productive writing sessions happen alone at home with my guitar and notebook.  My producer has a studio in Astoria called One Mind Music that reminds me of the gym where Apollo Creed trained Rocky in Rocky 3.  It feels like a work shop and that is a setting that keeps me focused.  
 
Stoli: You were in various bands in the past but now are solo. What advantages are there to just do music on your own?
 
I work best when I have other people to give me feedback on something I am working on.  My experience with bands in the past has not always been positive, but I feel like I collaborate with my producer like I would a band member.  We have very high standards for our work and our vision and goals are very much in synch.  We want to make the best music possible and get it out to world.
 
Stoli: I am so disturbed by the violence in the Middle East from Iraq to Syria. Do you think that peace can ever be a reality there?  
I hope I am wrong, but I don't see peace coming anytime soon.  I am not sure the people from that region would define peace the same way we would.  The reality they know is very different then ours. We all start off the same, but their circumstance dictates their way of life.  The tension in those countries is part of a cycle that's been in place for a long time.  It seems to be a problem without a solution.  With that said, I got a Twitter message from a young boy about a week ago that said, "I like your song "Fear of Landing" you are awesome." I asked where he was from and was shocked when he replied, Afghanistan. If you take all the political, religious, historical, and cultural barriers out of the equation, we are all the same and music seems to be a universal language.      
 
Stoli: What are some venues to go to in NYC to hear and play live music?  
 
Right now I am still in the studio finishing my new EP which will come out in September. However, I've been doing some random solo acoustic shows between recording sessions and we're planning on ramping things up as we get closer to the release. People can go to our website to check out the latest and sign up to get music and news. We also post shows on our Facebook and Twitter pages 
 
Stoli: When it comes to music consumption do you prefer streaming or downloading?
 
Definitely downloading, even though I still like to buy CDs believe it or not.  When I am a fan of something I have to own it and want it immediately.   
 
Stoli: What is coming up for you and where you @ online?
 
My main focus is finishing the new EP, and looking further out, releasing a full-length album early next year. To go along with the September EP release my team and I are working on a new video and putting some live shows together for the fall.  We are really excited about "Fear of Landing" and where it's heading. But that's just the beginning, I can't wait for people to hear my song Tailwind!
 
website: http://www.peterkellymusic.com
facebook: http://www.facebook.com/peterkellymusic1
twitter: @peterkellymusic