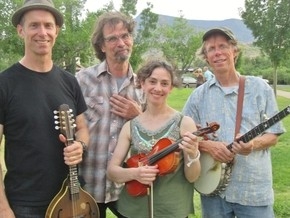 Clarkdale Arizona is a sleepy town up in the hills between Cottonwood and Jerome, Arizona and is full of restored historic little homes where the Copper Miners used to live.  The town sits just above the Verde River and the Verde Canyon Railroad.  Being new to the area, we decided it would be fun to go to Clarkdales free summer concerts in the park and last night was a preview to the series featuring a group called "Notorious" (not the rapper).
Concerts in the Park – www.clarkdale.az.gov
 
It was beautiful evening, in the low 90's and breezy when we arrived at the scenic park in the center of town.  I got to talk with the band members when they were doing their sound check and Larry Unger (guitarist) told me why the band was "really" in town.  There was a major event going on for the weekend called "May Madness". The Organizers had flown Notorious in the to perform at the event and the City arranged the Park performance. This Country style dancing event attracted couples from all over the Nation for an old style ballroom, wood floor stompin' good time.  Many of the dancers showed up at the Park Concert and got some dancing in before the evenings dance event down the street.
Eden Macadam-Somers is a petite sweet soul (Singer and Violinist) who completely surprised me with her versatility.  The music was joyful and heartfelt and the stories Eden told behind the music were as interesting as the songs themselves.  From American, Celtic, and Eastern European tunes to Swing, Blues, Classical music and original compositions the song choices were a journey through many cultures.  Eden and Larry have spent the last few years teaching music to students in Afghanistan and they have just returned to Kabul.
How did the four of your come together as a band?
Larry Unger and Sam Bartlett met years ago, playing in the New England area. They connected with Mark Hellenberg (aka "Pokey") at the Augusta Heritage Festival, and played in a number of bands together over the years. Larry and I met in 2004, at a contra dance weekend in Houston, TX. I grew up in Houston, and was getting ready to move up north, and Larry set up a few gigs for us as a duo in New England when I came up to look for a place to live. We began touring with Sam and Mark the following spring. Our band is really like a family – almost ten years of working together and we still love hanging out and playing music. Everyone plays a really significant role in the ensemble, and brings their unique character to the music, and that is what makes it so much fun to collaborate!
What took you to Afghanistan to teach music, elaborate on that for me.
In 2009, I was in my first year of doctoral studies at the New England Conservatory. One of my classmates, Robin Ryczek, took a leave of absence to go teach in Kabul at the Afghanistan National Institute of Music (ANIM), and she invited Larry and I over as part of the school's first Winter Music Academy in January of 2011. The ANIM is a vocational school for boys and girls ages 9 – 21, who study both Afghan traditional and Western Classical music, as well as folk and rock. It is built on the site of a similar school which was founded in the 1930s and destroyed in the mujahideen wars of the 1990s. When Larry and I are there, we teach everything from Appalachian flatfooting and clawhammer banjo to blues guitar, pop songs, and classical music on multiple instruments. We also have the opportunity to study and collaborate with local musicians. We have had only positive experiences there, and have felt very welcomed by the teachers, students, cab drivers, guards, local shopkeepers, etc. I will be returning on my fifth trip this Friday, and can't wait to see my students and to learn more songs from my colleagues there.
I found the individual stories about your songs very interesting, can you please tell me about their origins again.
Well, many of our songs are originals. Larry has written over 2000 tunes, many of which are featured in Ken Burns' documentaries, or performed and recorded by all kinds of ensembles around the world. River Falls is a waltz that Larry and I wrote about the dance community in River Falls, SC. We recorded that on our second CD, Elkins. We also co-wrote Sumari's Waltz, which was a commission by some friends on the occasion of their wedding anniversary. The song Beneath the Stones is an original lament that I wrote, loosely based on the story of Randal McCloy Jr., who was the only minor to survive a devastating coal mine explosion at the Sago Mine in Sago, West Virginia in 2006.
We also play a lot of songs and tunes from American roots genres, like Bessie Smith's Lost Your Head Blues or the traditional folk song Been All Around This World. In addition, we draw on music traditions from many other cultures, like the Romanian wedding lament, Hora Miresii and Esma Redzepova's Caje Sukarije (from the Macedonian Roma tradition).
 
What song is your favorite to perform?
Oh wow, that is a tough one to answer. It just depends on the night! I think that all of us feel that the stories attached to the songs are just as important as the music, and we often shape our programs based on where we are playing and how the audience responds. Sometimes, we create a set list and then play completely different pieces when we get on stage. We tend to go where the music takes us in the moment, and that is different each and every time.
Where can readers sample your music?
Our music can be found at www.notoriousfolk.com and on www.cdbaby.com
Do you have a tour schedule for the rest of this year?
Yes, this can also be found on our website, www.notoriousfolk.com. We all perform individually and with other ensembles as well, so you can find our individual tour schedules at:
http://www.fiddlegarden.net
http://www.larryunger.net
http://www.stuntology.com
What do you see yourself doing 5 years from now?
Hopefully, more of what we are doing now: traveling, performing, teaching, playing music, writing music, sharing art with the world, supporting folk traditions…one of the best parts about this band is that we all continue pursuing individual artistic paths outside of Notorious, which only serves to make our quartet stronger and more unique every time we play. I hope that we are able to continue touring for a long, long time.
Eden MacAdam-Somer -. fiddle/vocals: www fiddlegarden.net
Larry Unger – guitar/banjo: www.larryunger.net
Sam Bartlett – mandolin: www.sambartlett.com
Mark Hellenberg – percussion/banjo uke