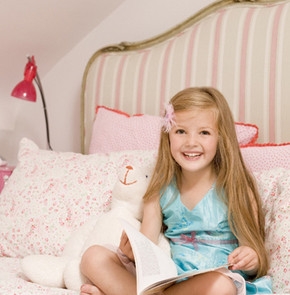 Some little girls dream of white eyelet lace on fluffy bedspreads, the polished white desk, dresser and dressing table, and dozens of shelves holding their Barbie dolls. Other girls want a place just for them that foster creativity and show off their talents. Little girls are fun, because their rooms are a place they can be uniquely themselves. Designing a fun place just for your little girl can be as easy as letting them pick the paint and curtains, or as detailed as creating a thematic room around one specific part of their personality.
Highlight with Murals
Find something specific to your girl like a scenic painting, or a mural papering her room in mermaids with pink trim on the molding. Attach molding to a dresser whose drawers have been removed, and into which has been inserted shelves. Paint the molding pink and the body white. She'll have an instant stuffed animal or doll case for display. Another new trend in the bedroom is getting Edmonton hardwood flooring that reduce allergens and replacing the carpet with washable rugs. The pink and white will contrast well with Danburg Floor Coverings, or a light colored carpet.
Building An Escape
Most girls identify with characters on their favorite TV shows or movies. Buy her a four-post bed, but instead of a canopy, build a doll house above it. Build it wide enough, complete with windows, to give her a hidey-hole as an escape from brothers and school. Build her a window seat, into which she can put her secrets and special toys. Her desk and bookshelves could be painted white to contrast the TV or movie characters you paint onto the dollhouse. Fluffy pillows, curtains and scatter rugs in bright colors will add a pop of color.
My Space
Not all girls dream of pink and white. Some love purple, some orange, and some prefer camouflage. For these girls, partition off part of the room with a curtain rod. Hanging from the rod curtains in her favorite color. Behind the curtains you could give her a small sofa and chair with bright pillows, or furry bean bag chairs. Find a colorful rug that pulls the room together. This will be her "space". Her room can be done in wallpaper or paint in her favorite colors. Suspend a large lampshade from the ceiling, from which can hang sheers for a canopy. Paint her bookshelves and desk a restful contrasting color.
Outside the Box
If your girl is into fashions, paint an approximation of a body on her walls that she can color and decorate any way she wants. If you can get a stand up metal mannequin, have her use scrap fabrics to try her hand at designing. If you have an aspiring vet on your hands, perhaps come up with a medic station she can use to doctor her stuffed animals. Unique places to play and explore talents are great addition to any kid's room.
Girl's rooms are fun to imagine and design. Always let your kids help in creating their own space. You might be surprised at their ingenuity. The key to any kid's room is adding what they love. It should become a place they want to return to everyday.