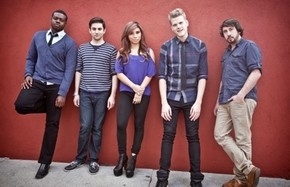 You won't believe what human voices are capable of after checking out Pentatonix. This five-person a cappella group from Arlington, Texas catapulted into the public eye after appearing on the NBC talent series, The Sing Off. They are famous for their complex and compelling renditions of pop songs. Their YouTube music videos have gained the Pentatonix over 5.7 million subscribers as of Summer 2014. Here are a few reasons why you should be paying attention to this a capella group's progression.
Viral Videos
When future cultures dig through old digital files from these last two decades, they'll get a great recap of pop by watching Pentatonix videos. This group has covered an enormous array of genres and artists, including Maroon 5, Rihanna, Nicki Minaj, and Daft Punk. Pretty soon, they will have a catalogue of every fan craze after the year 2000. Their video, "Evolution of Beyoncé," walks listeners through every major career period in the life of this songstress, including her work with Destiny's Child, and hits like "Crazy in Love." And their Daft Punk covers reached astronomical popularity, with over 75 million YouTube views as of Summer 2014. If you're looking for some awesome audio and visuals to play during a get-together, you definitely can't go wrong with viral videos by the Pentatonix.
Vocal Range
You haven't heard beat boxing, falsetto, and bass vocals until you've experienced the vocal ranges of the Pentatonix. Singer Mitch Grassi has the ability of hitting insanely high notes with his voice, to the point where they sound like whistles. Get your champagne glasses away from your computer speakers, before they shatter! At the opposite end of the spectrum, vocalist Avi Kaplan can hit some majorly low octaves.
Kevin Olusola excels at beat boxing, and he is able to replicate an astonishing array of musical instruments, as displayed in the video "Evolution of Music." Lead Vocalist Kirstie Maldonado also demonstrates an incredibly strong vocal range, nailing both alto and mezzo soprano roles throughout their award-winning viral videos. Finally, lead vocalist Scott Hoying contributes astonishing falsettos and melisma to Pentatonix covers.
So what are you waiting for? Check out the Pentatonix viral videos and pop song covers to get creatively inspired. Who knows, you and your friends might feel compelled to film your own viral YouTube videos after you see what this group is capable of. Get your costumes ready, warm up your voices, put on some glamorous makeup and start filming!