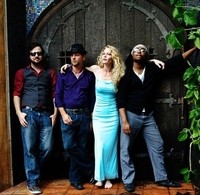 Mashing together swing, dancehall, and female-fronted indie rock, Ari and the Alibis is the record you never expected. Opening with 'Whatever Lola Wants', we're treated to a sweet mariachi style introduction which explodes into an unrelenting barrage of skittering guitars and swollen trumpets. The vocals are so powerful, adding contrast and texture to the track, before it finally descends into a Phantom Of The Opera inspired hook that is as amusing as it is obvious. The track features cutting lyrics; "I always get what I aim for / And your heart and soul is what I came for." It's an uplifting track, despite its darker tones, which wanders into the realm of 'Fernando's Hideaway' at the mid point and as is comes to its conclusion.
https://soundcloud.com/ari-and-the-alibis/sets/ari-and-the-alibis-ep
'Last Dance' opens explosively, drawing on funk themes and giving a healthy dose of soul in the vocal. It's jazzy and at points early Cardigans-esque, particularly on the guitar solo which nods to Emmerdale's 'I Will Never Know'.
"Like No Other"
http://www.youtube.com/watch?v=Cyi27A5BQxw
'In The Madness' is a serious head-bobber of a track, making good use of the tremendously strong bassline – and watch out for the continued references to 'Fernando's Hideaway'.
'Bon Appetit' adds a little more edge, slow and woozy it its approach but weighty it its ultimate delivery. The guitars are deep and sludgy, adding remarkable texture for the trumpet to work against, while the vocals cut through like a hot knife through butter.
Ari and the Alibis is an EP filled with sass, edge, and most importantly, tunes. Bringing together the angst of indie with the thrill of mariachi and dancehall, it's a great set of tunes for the discerning listener who's looking for something a little different.
http://www.ariandthealibis.com
By: Chris Marsh