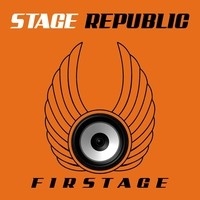 Taking the elements of classic pop music, particularly pop music from the 80s, and reconfiguring them in a 21st century format, Stage Republic have created Firstage, a synth filled album with hooks around every corner.
'The Last Side' unpacks the synths and sets up the stall, presenting vocals that bear influences from Sting and Phil Collins – but this is no dad rock, for sure. 'Hollywood' has all the hallmarks of classic 80s pop, while at the same time injects a Fountains Of Wayne style chorus that is certainly pleasing, especially on the acoustic guitar-led breakdown and outro.
Soundcloud Listen:
https://soundcloud.com/stagerepublic/sets/first-stage-stage-republic
'All The Way' is huge, anthemic pop rock with a massive opening, drawing back for a darker tone on the main verse. On the chorus, there are shades of Robbie Williams and Kylie Minogue's crossover classic, 'Kids'. More modern sounds creep in more prominently on 'The Way To Heaven', with its dubstep drenched chorus – bass drops, chopped vocals, and wobbling throbs are all present.
The surprise is found on 'Falling Angel', an acoustic track that's as tender as it is strong, while 'All Out' is possibly the closest the album comes to pure unadulterated arena-filling pop rock, sounding like a blend of Onerepublic, Vertical Horizon, and Passenger, with the Edge on guitar.
Watch/Listen: http://www.youtube.com/user/StageRepublic
'Online Outlaw' sounds as contemporary as it can, ready made for the radio and charged with a banger of a chorus. It's on the bigger tracks that Firstage really stands out, with massive beats and confident hooks. For some modern pop that looks to the 80s for its influences, go no further than Stage Republic's Firstage.
By: Chris Marsh