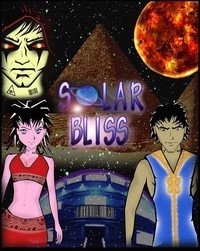 Guitarist and songwriter Chand K Nova's new e.p. Solar Bliss is an instrumental guitar record that's an interesting mix of styles and sounds. Allowing the guitar to be front and center as the 'voice' of the music, Chand K Nova's e.p. is full of passion and understated melodies.
The e.p. begins with the title track "Solar Bliss", an optimistic guitar piece with raggae undertones. Using bongos and triangles to keep the rhythmic patterns moving along, "Solar Bliss" is about as sunny as you can imagine. Delayed guitar anthems sweep across the backdrop and have a sing-a-long quality to it.
Chand K Nova – "Solar Bliss"
http://www.youtube.com/watch?v=mA-psMOMAqs#t=52
Next up is "China Man Blues", which begins with an interesting mix of Asian instruments doing a very American melody and it somehow works well together. I'm not sure what the lead instrument is, but about 1:30 into the song, a distorted lead guitar takes over, repeating the intro melody. The staccato melody is near trance inducing, while the background beat and chord progression seems to suck you in. The song has more of a ballad feel to it than actual blues, but it is none the less a great track.
"Zetetic" has a power ballad feel [think Metallica's "One" before the double bass riffs]. Even the lead style and tones are reminiscent of Kirk Hammet, who must have been an influence at some point. Near the end of the song, a cool octaver effect takes over and takes the track in new directions. This song showcases Chand K Nova's skills as a shredder of the most Metallica kind.
"Trouble In Paradise" follows not only on the track listing, but also in the metal spirit of the previous song. The bongo/percussion based track has a soundtrack feel to it, a certain epicness of something great about to happen.
The Solar Bliss e.p. concludes with "Daydream", a simple melody carried by delays and cymbal crashes. Underneath it feels almost like a Joe Satriani song. As the track progresses, the song rises and falls while keeping the lead guitar intact in a constant motion.
Overall, Solar Bliss is an impressive e.p. for guitar enthusiasts who like melodies over shred, though there is plenty of that in here as well. While there is always room for improvement and further experimentation, Chand K Nova knows how to deliver a solid performance and emotive guitar driven songs.
You can check out Solar Bliss on Spotify and on Chand K Nova's social networks listed here-
Reverbnation: http://www.reverbnation.com/chandknova
Twitter: https://twitter.com/ChandKNova
Soundcloud: https://soundcloud.com/chand-k-nova
Facebook: https://www.facebook.com/pages/Chand-K-Nova/150827631654486
Youtube: http://www.youtube.com/user/chandknova?feature=watch
Instagram: http://instagram.com/chandknova#
Douglas Garnett – Douglas.Garnett@gmail.com