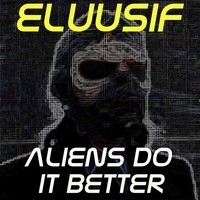 Eluusif is an electronic dance Dubstep artist out of London. The latest creation is, Aliens Do It Better. Eluusif is definitely doing it as good as they come and is dancing their way into your psyche and possessing your body into a musical frenzy.
Allow me to paint the scene for you. The lights go down and the mix takes over the room; boom, boom, boom, it hits you in the chest and now your dancing uncontrollably. The music is an addictive drug consuming your entire being. The night club is jumping and you are gyrating to each illusive beat.
"You Should Be Mine"
http://youtu.be/98TwNX-Yjyo)
"No, I Don't Want To Be Your Facebook Friend"
http://youtu.be/XzdIidN3AIQ
"Hair Like Skrillex"
http://www.youtube.com/watch?v=StpqCAdi37I
Eluusif lyrically touches on modern pop culture in the song, Justin Bieber is an Android and with, No I Don't Want To Be Your Facebook Friend. Both songs are extremely clever and made me chuckle right out loud. We are all guilty of falling for the trends being forced down our throats and I'm not ashamed to say, both tunes were candy to my ears. The entire EP is an escape from the norm. I can easily hear this rattling the walls across strobe light lit smoke filled night clubs everywhere.
There is a time and a place for this genre and Eluusif is paving the way to the party scenes across the world. Aliens Do It Better is an EP that puts you in the mood to have fun and lose all inhibitions. One electronically fused jam after another taking you to a realm that allows you to escape reality. Let yourself go and revel in its glory.  
I rate this 5 out of 5
Rebecca Hosking – hoskingrebecca@gmail.com