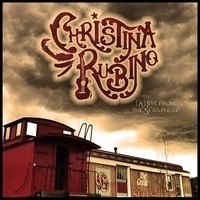 How would I describe Christina Rubino? She writes songs about the people, places and things that he loves, with a healthy combination of humor, skepticism, and honesty. He admits to what he doesn't understand, questions what he already knows, and asks his listeners to join him in viewing life from a different angle. Some tales are told with paper and ink, other tales pass from tongue to ear and find life in spoken word. There are some stories, however, which can be neither spoken nor read. Some stories sink so low and reach so high that they can only be told through song; Alive from the Scrapheap is that story.
Melding a unique yet accessible blend of earthly guitars, conservative beats and melodies, groove-ridden bass lines and an infectious vocal front, the Rubino sound is perhaps testament to how she insists on shifting the face of Folk rock. Additional performers include Matt Brown, Jerry Farley & Francine Bianco. Mixed/Mastered by Jerry Farley & Marc Urselli. Enter the emotional musing trip of this latest release "Alive From the Scrapheap" we begin to hear a life's opus skirts the lines of life not just from the observers point of view, but from a stance of personal testimony and experience. Alive From the Scrapheap is a very human blend of Rubino's spin on life through her music and possesses a very accessible signature sound. Indeed intelligent lyrics and heart-stopping melodies lines are the heart of her music. She also brings painfully simple thoughts and subject matter, heartfelt rhythms and melodies. Also present is an easy going element of the 'been there done that"  wisdom via this very striking. This 11 track line-up that's sure to provoke a positive reaction from every listener that gives her just a minute of their time.
Christina Rubino is a downbeat/sad-core album full of music that can be listened to virtually in any situation. The songs on the album are a mixture of songs that encourage you to tap your foot, while others will cause you to reflect. It also offers a mixture of sounds and musical landscape that will keep you guessing or wondering what's around the next corner – in a good way. From the amazing "The Gateway" and "Breakout" to jumpy "Stix and Stones" to more intense "Tidal" And "Nothing to Gain" to the more mellow and relaxing "Pending the Last Soul" virtually any music fan can find something they would enjoy in this mixture of songs.
Alive From the Scrapheap offers a unique opportunity to sit back and see where the journey takes you vi a interesting and entertaining sound that will remind you of Katie Herzig, Missy Higgins, Anna Nalick, and Butterfly Boucher. Christina Rubino is an artist worth watching live or checking out (live or in the Studio) as her soulful sound and unique perspective on life can be appreciated by all fans of music – young and old. 
URL: http://www.ChristinaRubino.com
SOUNDCLOUD: https://soundcloud.com/christinarubino
Rating 9/10
by LIzabeth DeJesus edited by Markus Druery
Review comments: marktheshark972@gmail.com