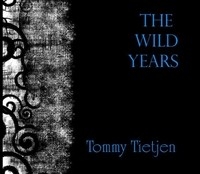 Tommy Tietjen was born and raised in Long Island, NY and is now showing them how to rock in Nashville, TN with his debut CD, The Wild Years. If you are looking for a never ending party, then look no further and be prepared to be blown off your feet.
Tietjen can easily be compared to some of the greats as he paves his own way into the hearts of fans across the globe. He writes like Bruce Springsteen, sounds like John Mellencamp and slips in some Billy Joel for good measure. Each song is sung with the same vivacious raspy vocal that gets your attention immediately. He is not satisfied only peaking your curiosity, this man does not rest until you have been thoroughly entertained.
The production feels as if you are at a concert enjoying a live show from the comforts of your own home. Starting off with, Cool Romeo, he paints a perfect 3 minute movie of a smooth player, keeping them begging for more. Then he proceeds to melt faces and starts taking names in, Kisses Like Poison and Hold Me Tight. He slows it down with the sultry, Sometimes It Gets So Cold At Night. Then displays another rocker with clever lyrics in, What I Do Best; one of my personal favorites. The entire body of work is endless perfection, lyrically, musically and vocally. This debut CD is a powerful beginning to a prosperous career.
Tommy Tietjen's, The Wild Years is a cut above the rest. This guy is a rocker from the word go, he is just getting started and is not slowing down until he has rocked the entire world. Do not miss out on this ride, If you are looking for a Friday Night CD to pop into your player to get you ready for the party events of the upcoming weekend, then this is the CD for you. https://itunes.apple.com/us/album/the-wild-years/id631307064
http://www.reverbnation.com/tommytietjen1
I rate this 5 out of 5
Rebecca Hosking – hoskingrebecca@gmail.com