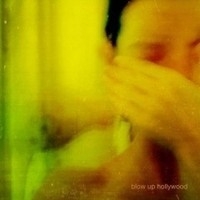 12 years running and 7 albums later, Blow Up Hollywood is back and better than ever with a brand new record titled 'Blue Sky Blond'.   Co-founder & co-producer Steve Messina is the heart & soul of Blow Up Hollywood as he also plays acoustic guitar and handles lead vocals on the 12-song set.   'Blue Sky Blond' has got plenty of heart and for good reason.   This recording was a bitter sweet moment for Messina and maybe even a healing experience for him in some way.   Steve felt lost & confused and even questioned if he should be a musician.   The outcome from all of these life struggles created a piece of work that is so sincere, personal & touching where Steve Messina/Blow Up Hollywood is vulnerable beyond means.
There are also many talented artists backing Messina on 'Blue Sky Blond' that not only help keep the overall sound grounded but Steve himself.   The end result is spiritually & emotionally-driven music full of dreams and real life pain.   The tone is serene & majestic while exhibiting a sense of cold, hard truth with raw emotions pouring out like cats & dogs.   Messina's vocals are razor sharp and as pure as the natural spring waters flowing through the mountainside.   The melodies & harmonies have distinct qualities that prove to be a vital part of the record.   The Blow Up Hollywood sound consists of some ambient rock & deep-rooted feeling that will leave the listener with a lot to take in.   Music to think about and songs that can connect with people on a higher level is the sheer beauty of 'Blue Sky Blond'. Blow Up Hollywood is making a big impact with its highly sensitive & direct approach that will hit you inside & out.
I couldn't help but notice a Pink Floyd-sounding theme that surrounded much of this album.   With the slowed-down tempos & rhythms and the drawn-out vocals & musical sections, the Pink Floyd influence seemed to be alive and well on 'Blue Sky Blond'.   I would be very surprised and quite shocked if the Pink Floyd style had nothing to do with the making of this album.   With tracks like "Throw Me A Line" that have such a soft, mellow vibe and calming effect, Blow Up Hollywood knows how to put your mind & body at ease.
"Waiting For My Ship"
https://www.youtube.com/watch?v=Y_B6_n5ipfw
'Blue Sky Blond' is open & vast just like the big, blue sky with many airy & spacious tunes sailing through your speakers.   The making of this album was, in a way, a total cleansing for Steve Messina/Blow Up Hollywood where he received a whole new perspective on life and music.   Messina had some uplifting words of wisdom after the project was complete: "I feel so much better now, the whole world looks different.   I don't think about money or my career; I do this because I have to do it, it's a catharsis. This is who I am."
So in the end, Steve Messina of Blow Up Hollywood is much more content and things are much clearer now thanks in big part to 'Blue Sky Blond'—the answer.   I highly recommend this album to anyone out there who can appreciate the true art of revealing one's self for all to hear & feel. Don't miss your chance to see Blow Up Hollywood perform live with upcoming shows at: The Fire in Philadelphia, PA on Tuesday, May, 27th and also at The Bitter End in New York, NY on Saturday, June 14th.   And don't forget to grab a copy of 'Blue Sky Blond' TODAY if you are seeking a well-recorded record with plenty of good, old heart & soul.   Enjoy the Official Video for "Waiting For My Ship" RIGHT HERE and surf over to iTunes & Amazon where you will find the entire Blow Up Hollywood collection for sale.   You can also listen to the song "Throw Me A Line" right on the page while you're reading the article.   For more in-depth information be sure to check out the Blow Up Hollywood website where you will find out everything you need to know about Steve Messina and the band plus SKOPE out some cool merchandise while you're there!   The absolute truth and true meaning of 'Blue Sky Blond' awaits you!
http://www.amazon.com/Blow-Up-Hollywood/e/B000APT02Y/ref=ntt_mus_dp_pel
https://itunes.apple.com/us/artist/blow-up-hollywood/id4232616
http://www.blowuphollywood.com/
5 Skopes
By Jimmy Rae + (jrae2@att.net)