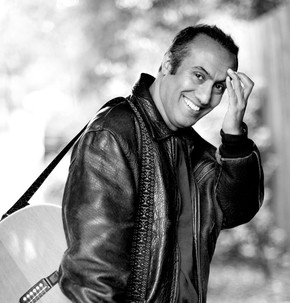 The UK music scene is always full of surprises, you never know what's around the corner or what'll be the next big thing over there. Flying in the face of electrohouse being all the rage is Electroflesh, who despite it's techno sounding name, is very human and folk rock with very little to do with actual electronic music at all.
Skope: First, can you tell us a little about the name Electroflesh? What does it mean to you?
Electroflesh: "spark of electroflesh" was a line that stuck in my mind when I first started listening to music. It was from a song named My Sex by post-punk John Foxx fronted band Ultravox. It hooked me to early synthesizer music. When my band damNoisyasians broke up mid-90's I felt naked making   music solo just as Sanj Hayre, so when the songs for the debut ep Mantra coincided with the impending birth of my son, the picture of his ultrasound scan seemed to scream the name Electroflesh at me.
Skope: Your new single "Endless Highway" has a folksy, almost Americana sound to it. How would you describe your sound to our readers?
Electroflesh:   Endless Highway does have that feel to it. I have other songs like Inspiration & Methadone Kiss that also have that feel. I would describe my sound as Alt/Indie Rock though, somewhere between The Stooges & Simple Minds via Peter Murphy.
Skope: Speaking of "Endless Highway", what's the song about?
Electroflesh:   Endless Highway is my metaphor about the journey we make in life. What is important to us? What do we fight so hard for? Is any of it really that important. When I visitted the USA a couple of years ago to work. I visitted The James Dean crash site to make a short film named
"Endless Highway – A Journey with the Spirit of James Dean" the film needed a soundtrack so I recorded the song. The original version is close to 9 minutes long. A radio edit clocking in at below 5mins 30 was released last month.
Be sure to check out the new single "Endless Highway" which is also on YouTube here:
http://youtu.be/29v4EP9s_Ic
Skope: In the video for the song, it's just you throughout performing. Do you have a live band? Do you perform live or are you a studio artist?
Electroflesh:   I'm mainly a studio artist, but I do play live solo acoustic gigs from time to time to promote new songs & singles.
                           
Skope: Do you write all of your songs yourself or do you have any accompaniment?
Electroflesh:   I write all my own songs & play all the instruments. I have session drummers provide percussion, but that's about it right now
Skope: Who are some of your influences and what got you into becoming a songwriter?
Electroflesh:   There are so many, apart from those I've already mentioned, David Bowie, Gary Numan, Steve Earle, Springsteen, The Doors to
name just a few. Joe Strummer from The Clash is someone I considered to be a great lyricist & Stuart Adamson was a great guitarist
Skope: You have alot of singles out, any plans for a full length record or are you going to focus on more singles?
Electroflesh:   There have been a few full length records, 121, A Missing Page, So life a drag!?!, Stray dNa.
Skope: Where can people learn more about Electroflesh online?
Electroflesh:   The main page to go to is www.electroflesh.bandcamp.com for releases & alternative versions. There is also a facebook bandpage, a reverbnation bandpage & twitter.
Skope: Where are you from and how has that influenced the way you write songs? Also, what's in the future for Electroflesh? What can we look forward to you sharing with us?
Electroflesh:   I'm from the UK, but having listened to a lot of US music that has shaped the way I write. For the future there will be an album of cover versions named "Skin Ups" released later this year & hopefully a new full length record won't be too far behind that.
For more Electroflesh, please visit http://electroflesh.bandcamp.com.
Douglas Garnett – douglas.garnett@gmail.com