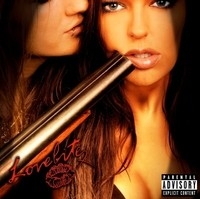 Lovebite is a four piece glam metal band from Birmingham, UK, that consists of Johnny Sparks on rhythm guitar and lead vocals, Tryx on lead guitar, KC Valentine with the bass, and Mikey Toye playing drums. Their debut album "Lock 'n' Load" is yet to be released via the Spectra Label. Lovebite is quite active around the Birmingham area, and also frequently play at venues in Manchester and London. This July, Lovebite will be performing at Degeneration Festival in Lincolnshire.
There are many things that can be said about glam metal, but ultimately, it is like any other type of music that saturated the popular sound of an era; there is a lot of terrible, peppered with an occasional gem. The posers are everywhere. However, glam metal is a particularly challenging and dangerous style to tackle correctly just because of the attitude and image that goes along with it. When self proclaimed heavy metal glam bands get it wrong, it is not only incredibly corny and pathetic, but its also just plain laughable. That's why heavy metal glam bands should be reserved only for the best musicians that know what their doing and know how to work the role but not make a fool out of themselves in the process. If you are going to go and play a club of most-likely working class average people dressed in your leather pants and all powdered up pretending to be a fancy rock star ready to play The Colosseum; then you better be prepared to live up to the image. Awesome rock star skills have to be there to match the awesome rock star look and attitude or your band is going to be really lame. As was said before, the posers are everywhere. However, if everything falls into place; from the chops, to the songwriting skills, to the correct image, heavy glam bands can make some of the coolest and most bad ass music around. It is for this reason that Lovebite's debut album "Lock 'n' Load" is a winner. The look of the band is a unique brand of sleaze glam, but not to the point where it is comedic or overreaching. The songwriting is ballsy, polished, and tough without being corny. Finally, and most importantly; the musicianship and performance on this album is precise, well executed, tasteful, varied, and all around spectacular. To make a long story short, the dudes from Lovebite are most decidedly not posers. Every song on this album is absolutely blazing. Excellent shrieking lyrics, busy rhythm sections, and driving bass makeup the bulk of "Locked 'n' Loaded" and serve as a true testament to the skill of this band as well as their ability to deliver high quality glam metal to today's audience. Songs like "Mr. Lonley" and "Strip Tease" demonstrate precise and complex guitar work that is complimented by perfectly fitting lyrics; yet the ballads of the album like, "Hey Baby" really provide the listener with a sense of depth of the band's sound as well as musical talent. KC Valentine's heavy bass works really well with the full sound of Mikey Toye's drums; the rhythm section of this band does a fantastic job of creating a very sturdy and driving environment. It is through the talent of the rhythm section that Lovebite lead guitarist Tryx is really given an opportunity to shine. Having an advanced and professional lead guitar player is very important to the success of these types of bands. His guitar tone is absolutely mammoth. Throughout the album, Tryx will deliver to you an endless onslaught of wah and flange drenched six string brutality that never really lets up over the course of the twelve tracks on "Lock 'n' Load". If your looking for crazy guitar, look no further. If your looking for ballsy, rude, catchy lyrics, look no further. If your looking for a heavy band that has both the chops and the writing ability to make a killer record amidst all the terrible music being produced today, look no further.
It probably wouldn't be too far off to say that glam metal and the bloated excess and ridiculousness that goes along with it have been a source of mockery and comedic enjoyment pretty much as soon as it rose to popularity. Bands nowadays generally don't use ladies blush liberally, kill an entire can of hairspray in one night, and dress in leather outfits that are probably single handedly responsible for killing an entire pasture of cows. This type of music, especially in the current decade, isn't for everyone. Values, styles, and preferences all change, it is simply a part of the society that we live in. The people that enjoy this music will like everything about it; however someone that hasn't listened to much glam metal is probably going to get annoyed with the lead vocals very quickly, not necessarily because there is anything wrong with the vocals, but simply because that style of singing has become quite dated and is no longer popular with most of the kids today. The fan base will always grow as some people will always appreciate this kind of talent, most people however simply find glam metal as humorous and don't bother to take I seriously, even if the music itself is very well performed.
"Lock 'n' Load" is a kick-ass album. These boys from Birmingham know what they are doing, and have pulled off something they can be very proud of. The album sounds great, and was performed on very well; some people just don't appreciate the whole glam metal thing anymore.
Label: Spectra
Website: http://www.lovebiteofficial.com/home/
Sounds Like: Posion, Ratt, Cinderella
Strengths: Killer guitar sound, advanced and well written song structure
Weaknesses: Vocals aren't for everyone, band can be humorously stereotyped
Score: 5/5 Stars
Owen Matheson, Edited and Approved by Shelly Cadiz