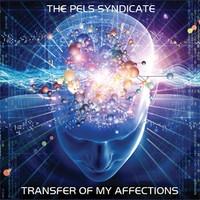 'With Transfer Of My Affections', The Pels Syndicate have produced a record that blends experimental melodic dance music with dub step, trance, and cinematic elements. 'Butterflies' certainly makes use of all these genres and elements, and explodes into a hyperactive melee of electronics towards the end of its sub five minute run time which is over surprisingly quickly.
'Shattered Hope' is altogether different; a scratchy dream scape with metallic sounds that give an eastern feel, before the burnt edges of over driven tones kick in which emphasis the bit crushed beats flickering at the sidelines.
Extra helpings of dub-step drops and bleeps are to be found on 'Floating Mind', a cascade of euphoric house ideal for starting off a Friday night, while 'Gates Of Paradise' a fantastic rework of Delibes's ' Flower Duet' makes use of full on hammer pianos and squelchy synths.   There's a cheeky sense of humor laced throughout the track that acts as a kind of comic relief amidst the relative seriousness of the rest of Transfer Of My Affections. The title track itself is a unique marriage of haunting rhythms and a meditative atmosphere.
Other tracks such as 'Pleasant Hypertension' are more cinematic, almost film score-like — minimalist and atmospheric, and 'Horizontal Sensations' which plods along much like a sideways scrolling platform game.
http://www.thepelssyndicate.com
By Chris Marsh