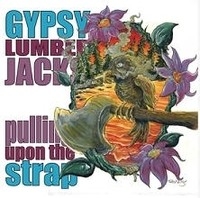 (Minneapolis, Minn.) Gypsy Lumberjacks are a hot up and coming band based primary in the North —but tour all around Midwest. Their music is steeped in Rock, Blues and Celtic Bluegrass Folk. Their latest CD "Pulling Upon the Strap" (2014) embraces the rich heritage of all of the above genres, while holding his own within their deep and versatile musical voice and exuberant writing style. All of this and more tie the album together nicely, even as the music skips around and delves into unsuspected territory. This is more than just Blues folks, I can even hear a Bluegrass-Folk- Rock- Saloon Jazz woven within the musical fabric. All of the above is a tripped out combination of musical styles no doubt — making for and equal parts musical experience.   Gypsy Lumberjacks start with a solid core structure of the studied and fluid acoustic guitar stylings of Leif Magnuson, the solid and exploratory bass guitar of Peter Verdin, and the articulate rhythms of Ben Karon on Cajon. Add Leif's voice as the cherry on top and you have what Conrad Magalis of the University Chronicle called "the best sound of the season." From this core structure there is a revolving door of musicians that frequent the Lumberjack stage. Most commonly Doug Christiansen adding rhythmic support on a variety of world percussion instruments, Cliff Smyrl on accordion, James Berget on fiddle, and if you are lucky enough to catch these guys in the mountains around Colorado, you might just see chess master Jacques Delguerre fill in on Concertina. To sum it up, this show is a 'can't miss' for any lover of live music looking to broaden their musical horizons with a fresh energetic take on what defines Americana today. The album starts off with the track 1 Chicha Fria an intoxicating yet jazzy-pop ballad which is comparable to a welcome mat giving the listener a positive premonition of things to come. All 9 tracks have everything the tile implies heavy with Rockabilly, Americana, Blues. Music is cut from the same cloth as O.A.R., Dave Matthews Band, R.E.M, Blues Traveler and Rusted Root. Next up is my favorite track on the set: "Ploughman's Blues" an up tempo bass driven piece with an Accordion driven flair. Just when you think you got this band pegged the next few tracks prove you wrong. "Waltz of Bones" , "Bleneau Ffestiniog" and Caspian;s March" will blow you away. By track 5 this CD hits solid stride and keeps coming at you one track after the next. Many tracks are mixed with some lighter rock and pop while a few notables are a total riot.   Some songs even have a sad but true overtone with a ring of truth to them . Finally "What You wanted Here" waves you in for a safe landing thus ending the CD on hopeful, impassioned note. After listening to "Pulling Upon the Strap" by Gypsy Lumberjacks it's evident to me their talent goes far beyond what I imagined or even expected. Leif Magnuson is a great singer and this band has the voice and the Folkish flair many people across this nation will gravitate towards no doubt. This band is to the same level of his singing and the combination of vocals, rhythm section and music really brings it all together.
URL: http://www.gypsylumberjacks.com
Gypsy Lumberjacks are a force to be reckoned with live or in the studio. Speaking of live check out their tour dates linked below
Gypsy Lumberjacks Tour Dates: http://www.gypsylumberjacks.com/tour.html
Final rating: 4/5 Stars.
Submitted by Richard Clay edited by Janne Zawa
Review comments: jannezawa@gmail.com