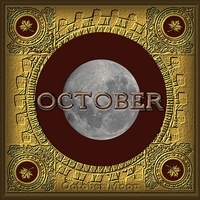 It may not be the Fall, but the duo known as October is ready to Spring into action with their glowing, new release called 'October Moon'.   October is made up of Kevin Tofalo & Bill Chiklakis and together they have come up with 10 songs that are vocally & musically rich.   The melodies are strong and the lyrics will hit you like a giant gust of wind blowing you away.   Overall, there are some exceptionally cool sounds being created here by October.
Sampler:
http://www.youtube.com/watch?v=AjkFUJC3Fpk
'October Moon' is the duo's first full-length record and I feel it is one that will receive much attention.   The origins of this album started with Kevin Tofalo bringing recorded demos of instrumentals to the table.   And then Bill Chiklakis came up with some catchy melodies & lyrics causing the 'October Moon' to rise out of nowhere.   The style is definitely in the realm of Pop/Light Rock but October, as a band, is much more than just that.   Every song contains an overload of emotion/feeling with each lyric & note having a distinct purpose.   Right away from the start on the title track, the listener is thrown head first into this "October Moon" that is full of life & meaning.   All the way through to the end where on the closing number ""Every Road", October is driving it on home with one smooth ride.   From a performance standpoint, these two musicians complement eachother perfectly with everything lining up just right.   I honestly don't think that Kevin & Bill could have done anything else to make this album any better.   With all of the pieces connected, it seems that the stars are aligned and so 'October Moon' is born.  
The vocal & musical arrangements on this album are top-notch and you'll love the easy-going vibe that October delivers.   In a sense you're getting live art on tape where October is painting a vivid picture of a peaceful place surrounded by sentimental values.   October has officially landed with 'October Moon' as I feel this record and this group can do no wrong.  
By Jimmy Rae (jrae2@att.net)
5/5 Skopes