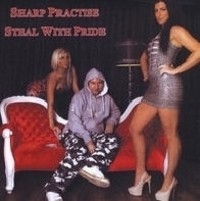 In an age of ever expanding musical genres and experimentation, Sharp Practise uphold the melodic rock style by trying to keep the song structure simple and accessible while still allowing room for something clever to happen. That might be a guitar solo or three like in Maybe (This Ain't Right) or even a little vocal effect, like the blue note in the second verse of Hard Heart on the word "blues". While it is true many feel the music industry is in disarray, it's always a breath of fresh air to hear a new band or artist that's not afraid to take chances with their musical expression. Keeping this in mind the latest release from UK Based   Sharp Practise "Steal with Pride" it's clear to me they have surpassed what many consider to be the a-typical "old time rock" musical release. Band members include: Michael Elwood (Drums), Nigel Clothier (Vocals), Ryan Lawson (Bass), and Simon Foley (Guitar).
Steal with Pride is a compelling 10 track musical anthem with a string of catchy songs that will keep the listener mesmerized and fully entertained. Also present are messages that are mostly rock n' roll based and a vibe that is unmistakably, well Old school UK rock. These guys combine many impressive musical styles: like retro Rock of the 70's and 80's and even modern Rock and a bit of Blues, with a splash of traditional Soul Rock, and yep even UK Invasion style playing. Some pieces I really like are 'Fine Line" and 'Good Speech" with their powerfully honest yet simplistic messages. 'Over at Catlin's" actually expands the possibilities as a possible radio hit in the making, but to me the song that personifies the vintage White sound is "Hard Heart". On this song they brilliantly bring the listener to his center and delivers a cool piece of music that sounds best loud and defiant. The production is not up to modern day snuff and the playing from all other band members is what you would expect from a retro rock band. Clothier creates a sound that will make virtually any listener feel right at home. As a vocalist, he garnishes a gifted vocal timber for rock as he glides with precision with just enough in the way of passionate technicalities, yet not neglecting soul and twang on the side. On many tracks they perform a multitude of amazing harmonies and solid guitar playing.
Criticism: Band needs to lighten up a bit and steer away from music written over 30 years ago and present themselves as a modern version of Haircut 100.
If you like The Who, The Small Faces, Free and even The Jam and Squeeze you will like Sharp Practise. This CD delivers cool reteo rock action and attitude for the senses that has no boundaries — very much like the rock n' roll itself.
Primary URL: http://www.sharppractise.com/
Rating: 3/5 Stars
Purchase Link: http://www.cdbaby.com/cd/sharppractise2
by Brianna Carlson edited by J.J McCall.
Review comments: johnmccall964@gmail.com