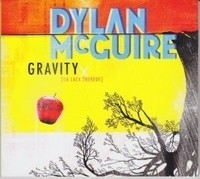 Dylan McGuire received a lot of notoriety while playing in the band, Broken Jones, in the early 2000's. They garnered radio hits in the Philadelphia area where he resides, as well as, gaining national acclaim. He did a few solo CD's after his stint with the band and now is celebrating his latest release, Gravity (or lack there of).
Gravity is an amazing display of McGuire's talent, both lyrically and musically. He has a subtle approach to his story telling. He can be very serious and then light-hearted, but regardless his mood it is always said beautifully. He lays everything out on the line and sings with integral honesty. The universality to his messages makes it easy to put your own story into each song.
Musically he uses interesting movements that makes the melodies soar. He uses intricate leads winding in and out of catchy rhythms that feel as smooth as silk; it is fascinating to say the least. It can't be described as screaming guitars, more like a casual conversation that is encouraging you to get up and move.
Dylan McGuire's latest project, Gravity (Or lack there of) leaves an impression from beginning to end. This is a CD that should be in anyone's collection, it appeals to a broad demographic and breathes excellence. Each song feels like a snapshot into McGuire's life. There is never a dull moment and he gives a stellar performance.
I rate this 4 out 5
Rebecca Hosking – hoskingrebecca@gmail.com