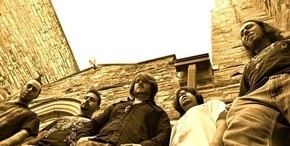 Not all things Nashville come up cowboy hats and boots. While country music may reign supreme in Music City, there's another culture brewing under the surface and Masses Beware are clawing their way up the underground to lay claim to a new breed of Nashville sound. Their altrock sound is influenced by Seattle's Alice In Chains, Breaking Benjamin and even dare I say 30 Seconds to Mars. Busy promoting their new album, Skope gets a firsthand glimpse into the bands' sound and scheming…
Skope: Tell us a little bit about the band Masses Beware, what does the name mean to you guys personally?
MassesBeware: Well the name started as These Mask We Wear, at the first big gig in Nashville TN the sound man announced us as "Masses Beware", so we looked up the name later that night, no one has ever used it for a band or anything. So we thought it sounded good and switched the name to "Masses Beware".
Skope: You have a modern rock sound owing a big debt to 90's hard rock, who are some influences?
MassesBeware: Coheed and Cambria, 30 Seconds To Mars, Alice In Chains, Breaking Benjamin, and even some Seether.
Skope: How does working in Nashville help you guys, do you stand out like a sore thumb amongst the country music scene?
MassesBeware: Nashville helps us a lot, the best thing about Nashville is the recording scene, and all the big players in the music business. We hang out about everyday on Music Row, we use to live there. So it is like our tramping grounds, we hang out a lot on 18th Avenue South where Paradestormer, and Endless Beat Management's office are, also the studio we recorded in is in the same building.. When we walk around the streets, we run into big name producers like Michael Knox with Broken Bow who is right in front of the offices. We get to meet some of the best studio musicians, and exchange numbers with them, and even people in the labels. Warner Brothers Records Nashville is one block away, Sony Music Nashville is at the end of the street, and Word Records and Razor and Tie is not even 500 feet from where we are. So it is a great place for connections. We do stick out like a sore thumb though. Brandon has a 2 tone Mohawk to start with, a lot of those country guys do not like it alone. The rest of us still don't fit in, even with the Vanderbilt crowd we stand out. But the uniqueness of our look gets us a lot of attention, people always stop and ask " you guys got to be in a rock band, whats the name". When we say "Masses Beware" you usually get the look like saying Marilyn Manson haha. Then when they hear the music they change there tune.
Masses Beware "Kingmaker"
http://www.youtube.com/watch?v=D0d1DK7eXIA
Skope: What can your growing fan base expect from your new album and what's it about?
MassesBeware: Expect a whole lot of changes. Newer sound than from the EP which was a lot heavier. We are working towards, a more friendly commercial hard rock sound. The album is about a lot of different things. Some are experiences in our lives, some are from other peoples view of there life and there story. So it is a lot of different things going on.
Skope: I read you are making some tour plans to promote the album, where can people see you guys?
MassesBeware: We are building a new tour now, we had a good tour lined up in the summer to promote the EP with 2 Victory Records bands, but one band broke up, the other canceled, stuff fell through last minute. But with that we still got a lot of contacts with other booking agents, so we are still working with a few new ones to get us on some opening shows. It is just in the works though. Other than that we are playing around Nashville, and around the area some shows, we always update our website and reverbnation page with new shows.
Skope: Who writes your songs and who's in the band and what do they do?
MassesBeware: We all help write the songs together, Kingmaker was the one we all really put 100% of everyone into it, and the song turned out great. Everyone put lyrics together, helped develop the sound, the break down, and the dynamics. I think 5 heads thinking of everything in a song, really makes the song better. Because everyone has there own view of where it should go.
"Take It All Away" was close to the same. The music was kind of already mostly written for guitar parts, but the bass added a change to it, and drums did to, instead we all got with Casey threw out ideas, and let him put them into a one person view of where the song was going. Casey Self is the singer, Bryant Giancana is the bass player and does live back up vocals, Nick Giancana is on guitars, and keyboards, Sam Deyton is guitars and back up vocals, Brandon Giancana is Drums.
Skope: Do you guys have a philosophy that unite the group?
MassesBeware: No, we all just really get along well together, and just love to play music. That is the only part that keeps Masses Beware United.
Skope: Alot of people these days are trying desperately to stay indie but Masses Beware is actually seeking label support. What are the benefits to being on a label verses staying independent?
MassesBeware: Labels can help out so much, just with getting money to make a better album, get the right producer to bring the full potential out of the whole band. Other stuff like music video budget, tour support, marketing your brand, get you on to the mainstream channels, mainstream radio, (airplay) and mainstream charts like Billboard to give you more exposure, to gain tons more fans than just working it alone. Doing it Independently you get to keep all the money for your songs, and merch which is a good thing, but about the only good thing. You have to build your tours yourself, research producers, research studios, branch out and find as many contacts to help push your songs, try to get magazines to recognize who you are, everything is on your own, and when you work another job to pay the bills, you lose so much time to help gain exposure for your band and your brand. It turns into a hobby when you really want to do music as a full time job.
Skope: Are you guys all about being live or are you more comfortable in the studio? And what could people expect at one of your shows?
MassesBeware: Well the studio is a different aspect in all. In the studio most of us are calm, we don't really put a lot of energy into everything, because you are on the grid, and you are trying to keep it as solid as you can. Live we really get out there and enjoy the show, we put energy at 100% and have the most fun playing that we can. We would say more comfortable live. What can you expect from a show. We use to have some interesting props like the song scarecrow, we had a guy dress in a scarecrow Halloween outfit and go around scaring the hell out of people in the audience. So we might add some props to the new shows, otherwise you get a lot of energy at the show, and have a good time.
Skope: Where can people find out more about you and get hold of the goods?
MassesBeware: https://www.facebook.com/MassesBeware, http://www.youtube.com/Massesbeware, http://www.reverbnation.com/massesbeware, https://twitter.com/massesbeware, and you can buy the album on I tunes, Amazon Music, and Google Play as well.
Get your dose of rawk with Masses Beware at http://massesbeware.com/ and remember I told you first.
Douglas Garnett – douglas.garnett@gmail.com