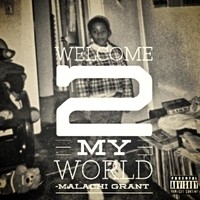 Malachi Grant is a hot rapper coming out of New York among some of the best artists in hip hop. His music has a smooth feel to it and the lyrics are on point and crisp. On his album, "Welcome 2 My World", there are some definite bangers with big 808 kicks and heavy bass that will blow out your stereo deck. Malachi also has a good singing voice for hooks, which makes his style more versatile.   I really like how the feel of the music switches back and forth from hard hip hop to a really chill laid back flow.
Listen on Bandcamp – https://malachigrant.bandcamp.com/
CD Baby Purchase link: http://www.cdbaby.com/cd/malachigrant
I loved the analog warmth of the music, it brings out an old school kind of sound where saturators were prevalent from tape distortion. You can tell that Malachi puts in a lot of work, not only in the booth, but on an engineering aspect as well. The instrumentals are clear and his vocals really cut through his mixes which is uncommon of independent hip hop artists today, who just want to push any song out no matter what the quality. I can really tell when an artist puts a lot of time and effort into something.   The panning, effects, reverbs, and delays make a really exciting experience for the listener and I would recommend listening to it with headphones to take in the minute details that highly distinguish the character of the songs. The EQ and compression is done very professional as well. My top 3 songs on this album: "My Life", "Where I'm From", and "Signed and Sealed". Much respect to Malachi and his new album!
Website: www.mghasmusic.com
Social Media:
www.instagram.com/mghasmusic
www.facebook.com/mghasmusic
www.twitter.com/merksmilez
www.sonicbids.com/mghasmusic
www.reverbnation.com/mghasmusic
By: Charles Riker