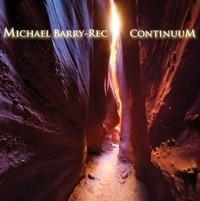 About the Artist: This is Barry's latest release entitled Continuum. Researching his bio he has an accomplished musical career thus far. With a distinctive talent for composing and improvising a unique new age guitar sound. Barry combines styles like Instrumental, Acoustic Rock/Blues, New Age Contemporary with the guitar as his centerpiece. On the guest list we have an awesome feature of George Winston's piano on "Sanctum". I've always loved the combination of Jackson Browne's piano and David Lindley's lap steel – you can certainly hear that influence on this track. Also in the mix is J D Foster who has played/toured with Emmylou Harris, Patty Griffin, Lucinda Williams, Dwight Yoakam to name a few. J D is an amazing person and graced us with outstanding bass throughout. In addition, A solid and stellar contribution by both Johnny Hott (drums) and Adrian Olsen (hammond organ).
URL – http://www.michaelbarry-rec.com/Michael_Barry-Rec/Welcome_to_Michael_Barry-Rec.html
Review: Continuum is one release that certainly doesn't disappoint. This is artist that brings to the table effective songwriting via an impassioned and masterful guitar playing style. This meshed with a delightful New Age Fusion sound make for a very effective combination no doubt. Barry (who hails from Virginia) has an amazing yet soothing sound but even manages to venture into like Instrumental, Acoustic Rock/Blues, New Age Contemporary. I can also hear some Blues and Rock. Despite this he elects to take the high road and methodically never crosses the line into cheezy Smooth Jazz-Pop territory. All songs are wonderfully simple but masterful in their overall arrangements. Music reminded me of a cross between George Winston, Blue Rodeo, Steve Earle, Buddy Miller, Richard Thompson and David Lindsey. One would be wise not to underestimate how incredible an instrument like the Guitar can be. In the hands of an experience and capable performer/producer the experience can be exhilarating. Continuum is quite entertaining overall with an amazing feel. In this aspect Barry is a master musician. In my mind he is a musical triple threat. He is a world class songwriter; he has an amazing feel when he plays and has the X-Factor. What is X-Factor? It is the passion within and it's something artists have to be born with. It's not taught in any textbook but can be felt when listening to the music. Barry has strong X-Factor. I See him as a painter and the guitar his brush. His playing is straight from the heart and offers a very strong and confident soul searching perspective and artistic spirit. All songs do exactly what they are meant to do via well-crafted movements and top tiered musicianship. The overall production value is superb with a crystal clear sound quality and solid low end frequency.
My favorite tracks are as follows: Sanctum, Beckon, Lotus, Shake the Rag Shuffle
Conclusion: Michael Barry-Rec has proven himself yet again with this latest release. He is clearly an accomplished player and composer from the East coast and he strikes me as an artists not really trying to prove anything. Like other guitarists out there, the thing I like the most about Barry is there is no chip or "pick" on his shoulder. I must admit Continuum sucked me in like a powerful drug and refused to let go long after the CD was over. This usually indicates something special about the artist or band in question. Thus deserving praise, recognition and musical fame at the international level beyond Virginia.
Rating: 8/10 Stars
Purchase Link: http://www.cdbaby.com/Artist/MichaelBarryRec
Kenny McPherson Edited by Mindy McCall
Review Comments: indiemindymccall@gmail.com