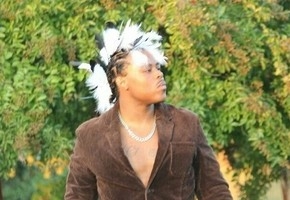 Real Futuristic Destination Pioneer [or RFD Pioneer] is part electronica, part hiphop and all passion for music and life. With a new single out "Contingency Love Life" gaining momentum, we caught up with RFD to find out more…
Skope: Your single is very energetic, how would you describe the song and what's it about?
RFD: Thank you, with dancing all over the world in mind. Contingency Love Life is the life you may or may not present to your daily obligations, a life that you love and sometimes, want to share with the world or would love to take a solo journey for a little while with and enjoy your life without obligation.
Skope: What is it about dance music that you're drawn to?
RFD: Universal Language! Its the reason we have understanding and dancing consistently has us all unifying with understanding.
Skope: Do you have any philosophy behind RFD Pioneer?
RFD:Yes. The idea that we all are Pioneers in life. Although we come across influences in our movement through life, we are our own souls. Futuristic Destination is what we all travel towards, may it include music, art, forward thinking, etc.
Skope: What got you into songwriting and performing?
RFD: I love people! I love the way they think, (good or bad) I love the way they respond, most of all I love that we all can share a common love in music. To see people singing a song together who barely know each other is a passion, yet dream of mine. To used to be 405lbs and standing in one spot on stage, verses jumping in crowds, pulling people on stage, dancing with people in general without limitations of health is beautiful. Feeling the electrical, unified, passion of people is something you can't bottle in a jar and sell. If it was I wouldn't have one cent, from me buying all my money could afford!
Rfd Pioneer "Contingency Love Life" Audio Video
https://www.youtube.com/watch?v=q-2_uNOZ-LU
Skope: Do you have any specific artists that have inspired you to become an artist yourself?
RFD: Oh yes! Kenny Loggins, Curtis Mayfield, Les brown and his band of renown, Whitney Houston, Sade, Lady Ga Ga, and P diddy, but I my respect goes to every artist, producer, etc, I lay my ears upon, good or bad, heard or barley could hear, for I have learned from them all. Beautiful feeling to see out of someone else's soul.
Skope: Is the single part of an album or e.p.?
RFD: Yes, part of an album, as I take my time and put my heart all over music, I take my time with how to deliver as well.
Skope: Where can people find the song to purchase and download?
RFD: https://itunes.apple.com/album/contingency-love-life-single/id844562824 – Also any search engine of music.
Skope: Your sound is very layered and textured, who is your producer and how did you you come together? Are you like a songwriting team or do you primarily write lyrics?
RFD: My producer is Bjuize Alexander, and I base the beat with my insight of how I write my songs. From scratch, as I write everything I have a mind of music already to be installed, so that when I set up with Bjuize I could paint a picture of my soul and let our hearts take over.
Skope: Do you play any instruments?
RFD: Trombone, and drums.
Skope: Your photos show you as someone who is in amazing shape. I read that at one time you were 405 pounds… sounds like there is an inspiring story there, can you tell us about it?
RFD: I was 405lbs August 2012 and very very unhappy. My career was the most important thing at the time, which only consisted of music, (the genres of pop, dance, and electronica) soon became derailed because of a statement made to me by a executive of interscope records. He simply said (I heard your music thanks for your consist effort, but why haven't you generated that effort with your body, I can't take you serious.)   It ripped my heart to sheds! I decided to be honest but true to myself and I asked myself am I going to change my world or finish my life with shoulda, coulda, or wouldas. I immediately became honest as I looked in the mirror, didn't suck in my stomach and decided to make a change for my existence, MUSIC. August 2012 I was 405lbs from then till February 2013, I lost 127lbs. Then I knew I wanted so much more. With fitness as my passion I lost up to a 187 lbs in all, and my life is completely different. I am so thankful! I understand that you must become better daily, that is why I operate my music and fitness daily, currently on day 297 straight of fitness and I love my music and appreciate life just that much more!
Skope: What role did music play, if any, in helping you get into such great shape? Is that something you want to pass along to others who are struggling as well?
RFD: Music was everything with weight loss. It was with me every time I generated the motivation to have a productive fitness session. Yes it something I look forward in passing along, I love the fact that others want to become better. You just have to learn how and know how to become the best you!
Skope: Do you have an official site? Where can readers learn more about you on a personal level, as in beyond just the artist?
RFD: Yes I have a it under construction, but I have a Contingency plan to tell my story and help others along the way. Email me your questions or comments Gwelife@gmail.com . For I am a open book and I look forward to helping or informing the readers, or those who have any thing to ask. No limitations on this beautiful jorney of life.
Check out RFD Pioneer for some hip shakin' electro motivating, dancey music   https://itunes.apple.com/album/contingency-love-life-single/id844562824 and make sure to download the new single "Contingency Love Life".
RFD Pioneer @ http://Reverbnation.com/rfdpioneer – http://Purevolume.com/rfdpioneer
Douglas Garnett – douglas.garnett@gmail.com