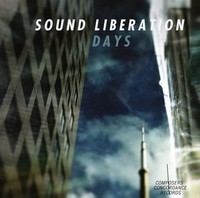 Pushing boundaries by creating a style of sound & music that is like no other can best describe the band Sound Liberation and the new album 'Days'.   Gene Pritsker had a true vision back in 1996 to create a musical entity that would revolutionize the air waves through one liberating listening experience.   Mission accomplished as Pritsker & company are incredibly unique & original to the point where it will make your head spin!
Sound Liberation includes many talented musicians with Gene Pritsker being the composer, producer, rapper & guitarist.   There was one certain lady on this record that caught my attention right away and her name is Chanda Rule.   Vocally, Chanda was simply on fire like on track two, "Need", where she is displaying an overload of Soul.   Then on the song "What Shall I Do", Chanda is shining bright with her soothing vocals that will simply melt your ears away.   Sound Liberation blends so many different genres together but makes all the parts & pieces fit together perfectly.   One will hear elements of Rap/Hip-Hop, R&B, Jazz, Rock & Chamber music with even some funky rhythms, orchestral sections and operatic singing thrown in for good measure.   And you can't forget the monster beats that surround this record like on the title track where you're getting an electrifying, robotic beat that will make you bounce for days!   Throw in a serious rap attack with Chanda's killer voice and you have yourself the best of 'Days'.   Get ready for pure insanity on "Breath" where funky fresh beats collide with chamber music & Chanda's soulful singing, which makes for one hell of an airy concoction.   I'm vibin' all the way to track eight, "Tragic", that has such a cool appeal and then enjoy some jazzy R&B on "Closer To Me Than My Own Breath".   Sound Liberation is bringin' some real heat on "FAKE" and then prepare yourself for one of the most original mixes on the album, "Outcome of the Wine", that will blow away all of your senses.   Wrap your ears around some dirty money on "Capitalism Running Wild" where horns 'n' hip-hop collide with truthful lyrics about a nation that needs to wake up.   Sound Liberation ends the record in high fashion where it's "About Time" for them to go off like an eclectic machine that doesn't play by the rules.
"NEED" by Sound Liberation
http://www.youtube.com/watch?v=DpEtVFsXIGM
I loved the fact that a source referred to Sound Liberation's 'Days' as "Hybrid Hip-Hop/R&B/Electric music" because I totally agree with that statement.   Their music is breaking musical barriers by taking the audience on an unforgettable ride full of pleasant surprises and places they've never been before.   Gene Pritsker said it best when he stresses that Sound Liberation is "ending the segregation of sound vibration (i.e. musical Genres)".   Amen to that and hat's off to Sound Liberation and their latest release 'Days' that has huge potential to become a game-changing Hit!
http://noizepunk.wix.com/soundlib
https://www.facebook.com/pages/Sound-Liberation/223581384386
http://www.genepritsker.com
5/5 Skopes
By Jimmy Rae (jrae2@att.net)