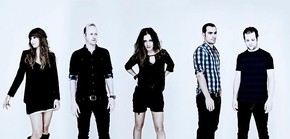 Counting Tom Robinson as just one of their many fans, The Mouth of Ghosts return in 2014 with gorgeously genre-defying EP, 'You Will Go Again From Me', set for release on 16 March 2014. Attention fans of Portishead and Massive Attack — get your ears ready if this band are not on your radar.
"witness your jaw line dropping in utter bewitchment" God Is In The TV Zine
"Wrong": https://www.youtube.com/watch?v=Iocg5W1TG-E
Founding band members Simon Langford (guitar) and Marco Italia (bass) met Alla Seydalieva in 2011, matching her powerful yet dainty vocals with ragged guitar and dark grooves. Drummer Phil Page joined the trio later that year and in 2012, Valerie Deniz (vocals, synth) completed the line-up making the band a five.
Preorder at Bandcamp and get a free track: http://mouthofghosts.bandcamp.com