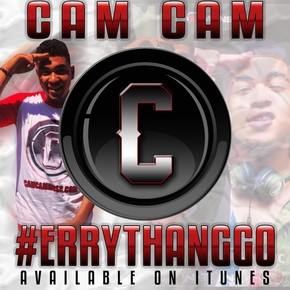 CAM CAM, has written over 1000 songs, under the inspiration of music artists such as DMX, Usher, Eminem, Outkast, Mac Dre, Tupac Shakur, Michael Jackson , Aaliyah and the legend of Hip Hop himself LL Cool J. These artists have given CAM CAM a pallet for new sounds and rhythms and it is his goal and dream to follow in their footsteps to carry on the legacy. CAM CAM's hit single Erryday Rockin is just a taste of what Monstrous Hip Hop star power he truly displays.
The official movie music video #ErrythangGo:
http://www.youtube.com/watch?v=vryLHqf0U-s
After opening up for various artists such as Tyga, Lupe Fiasco, Lloyd, Bow Wow, Clyde Carson D-Lo, Berner, AP-9, San Quinn, Baby Bash, Travis Porter, Meagan Good, Audio Push, Cali Swag District and the Rejektz is when CAM CAM realized he was exceeding his goals with more to spare.
Buy:
https://itunes.apple.com/us/album/errythanggo/id789250321?i=789250323
Following the success of CAM CAM (3) times debut on BET'S 106 & Park, and being BET 2012 All-Star artist on W.0.W (Wild N Out), Monster INC immediately requested that CAM CAM be among other artist to represent the Monster Ncredible Brands with Nick Cannon. CAM CAM has been used in numerous marketing campaigns by Monster connecting to their retail markets in the U.S. Like Wal-Mart, Fry's, Office Depot and Staples.