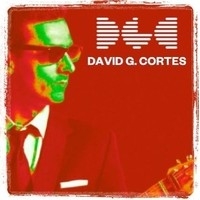 So across my desk slides the new 10 track CD from Houston, Texas based David G. Corrtes entitled Time Away But Home Again. During my initial research of Cortes there were a few lines from his bio that I really liked: "This is my first step in creating the music that I love so much. I have been preparing for this, my debut LP for the last 20 years" "I want to thank my family and friends for believing in my dreams, they help me with the guidance and support that I need everyday. Also I want thank my Producer Josh Applebee, which without its help and patience this awesome music could not have been produced. And thanks to my fellow musicians 'past and present' which help me become a better musician when I am around them." How do I describe my music? 'Pop-Rock-Funk-Bossa-Folky.' How would I describe Cortes? Cortes is a Mexican American singer-songwriter who puts as much energy into his guitar playing as he does his songwriting. His infectious style of Spanish-Pop flair s likened to Mexico as he is from there originally and this comes out in his music. His musical style lays the foundation for powerful, carefree, insightful lyrics often derived from the way he observes life itself. He kind of adds his own voice to those of his influences, creating an engaging combination of passion and presence mixed with emotion and a ring of truth: As I spun the CD what I heard put a smile on my face. It's a nice easy flowing record that delivers solid songwriting with a nice rock feel to it. Cortes reminds me of Manuel Carrasci, David Bisbal, Sergio Dalma and even Elvis Costello. However you will also hear a side of classic guitar driven pop from the 50's along the way. If you like the above bands and musical styles you should definitely check out this CD via below link.
My favorite tracks are probably About You, Hoy, Manana y Siempre and Como Quisiera.
I doubt any of these songs will be heard on mainstream radio any time soon. Although I will add they might have made the radio list in the 60's and 70's. This latest CD by Cortes is a delightful release with many feel good grooves with a delicate Spanish Saloon Folk Jazz feel to it but also elements of good ole' Americana Pop. At the end of the day Cortes shares a fresh glimpse at an amazing artist and takes us back a few years — before everything started sounding like — well like everything else.
SOUNDCLOUD: http://soundcloud.com/david-g-cortes
Rating 7/10 Stars
Official URL: http://www.davidmcortes.com/
Nicholas Braden edited by Janne Zawa
Review comments: jannezawa@gmail.com