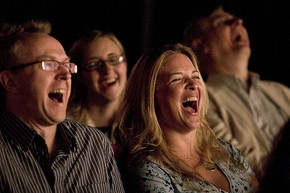 Sometimes there's nothing like a great comedy to lift your spirits and help you forget about your troubles. After you've experienced some laughs, you'll likely have a better outlook on life's ups and downs. Try watching a funny movie when you're feeling down and need a couple hours of bright and cheery movie magic. Taking a time out from your troubles can help reduce stress, putting problems in proper perspective for you. So the next time you feel down in the dumps, reach for your remote, sit back, and relax.
Overboard
Goldie Hawn and Kurt Russell star in this memorable comedy about a rich and selfish heiress who, because of amnesia, believes she is the wife of a poor carpenter and the mother to his four unruly sons. The best part about this movie is that the pair is a real life couple, together since 1983.
Although they met in 1968 while filming "The One and Only, Genuine, Original Family Band," they didn't fall in love until they reunited on the set of "Swing Shift," in 1984. They have a son, Wyatt, who was born in 1986. Another plus is that Garry Marshall, a true master of comedy, is the director. You can catch this 1987 classic on a network like www.direct-ticket.net where the cinematic hilarity ensues!
Billy Elliot
A boy who wants to pursue ballet is no easy task in working class neighborhood of northern England during a coal strike. Yet Billy Elliot, in spite of the disintegration of his family and his rough and tough dad, wants to perform ballet. Again, this movie is an example of art imitating life. The actor, who plays Billy Elliot, Jamie Bell, took ballet and other dance classes while attending secondary school, which made him the subject of ridicule by his peers.
In addition, he is a native of the location that they filmed the movie. Bell tapped into some of his experiences for inspiration while playing the character of Billy Elliot. Poignant but filled with genuine comedy, this film is uplifting, inspiring, and will have anyone feeling just a little bit better after watching.
Caddyshack
This sports comedy has become the stuff of legends. A modern-day comedy classic, Caddyshack stars Chevy Chase, Bill Murray, Rodney Dangerfield and Ted Knight. On a sad note, this was Ted Knight's final movie performance. Rodney Dangerfield hired well-known professional golfer, Don Cherry to teach him how to golf for the film. Don, a singer who was a regular headliner in Las Vegas, lived near Dangerfield.
And who can forget the cute gopher? In reality, they wrote and filmed all of the gopher sequences after the majority of the movie was completed. Director, Harold Ramis, originally wanted to cast a live animal to play the part of the gopher. When they realized this wasn't a viable option, they enlisted the talents of John Dykstra to build the animatronic rodent and its tunnels. Non-stop laughs and inane goings-on around a golf course and country club make this a tough comedy to beat.
Some Like it Hot
When Tony Curtis and Jack Lemmon are compelled to dress up in drag in order to join an all-female traveling jazz band, they find that living life as a woman isn't very easy. Throw in Marilyn Monroe playing the role of "Sugar," and you have an unbeatable threesome. All three were famous movie stars with multiple hits, and you can find their golden stars on the Hollywood Walk of Fame.
Tony Curtis and Jack Lemmon, both true professionals, decided to test out their female make-up and costumes, so they strolled around the Goldwyn Studios lot to see if people believe they were women. At some point, they tried going into the public ladies rooms to use the mirrors to freshen up their makeup. When none of the women there said anything, Curtis and Lemmon knew they could pull off the roles of women. Interestingly, the movie includes a scene on the train recreating this moment. The combination of a brilliantly-written plot, combined with plenty of laughs makes this the perfect rainy day movie to brighten up your spirits.  
Bridget Jones Diary
It's tough to be single, but Bridget Jones and her pals make it seem downright funny. Starring Renee Zellweger, Colin Firth and Hugh Grant, this film depicts Bridget, who stumbles through her career and love life, sometimes combining them, only to discover that love is nothing like she imagined it would be. Based on a novel by, Helen Fielding, Director Sharon Maguire was actually a real-life inspiration for the character of Shazzer when she penned the novel. A friend of Helen Fielding's, her name is also on the acknowledgment page in the book. What makes this movie rise above the long list of other working girl fantasies is the lovable and quirky personality of the effervescent Miss Bridget Jones.
Wedding Crashers
Want to meet a lot of women and enjoy life as a perpetual party?   Follow the example of Owen Wilson and Vince Vaughn as they team up to star as a couple of wedding crashers who pretend they know the bride or groom in order to join in the fun and party with a room filled with desperate bridesmaids and lonely ladies looking for love. On an interesting note, the man who sits next to Owen Wilson at the Italian wedding laughing at the "Jabroni" joke is Wilson's uncle in real life. In order to make sure the weddings looked real, the producers kept a real-life wedding planner on the set to consult with during filming. Christopher Walken adds another comedic dimension to this zany and fun-loving film.
Hope and Glory
Wartime in London during WWII was no laughing matter, but this film proves that there is laughter even during the toughest times. Director John Boorman based the movie on his own personal childhood experiences during World War II. Boorman also used his son and daughter to play cameos in the film. Katrine played Charity, Bill's aunt, and Charley played a Luftwaffe pilot that got ditched. Depicting the trials, and often hilarious tribulations of one family, the movie is a modern-day classic that will have you looking at life completely differently after watching it.  
These movies are exceptionally funny and uplifting. If you're suffering from the blues and need a little help perking up, these movies won't fail you and you'll feel much better after you give them a try!
Courtney Whitehead is a former comedian. She now spends her time writing about entertainment on various blog sites.