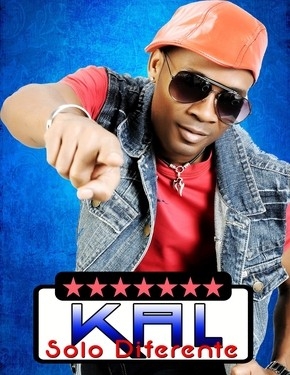 From the vibrant setting of The Dominican Republic comes an artist named KAL: composer, dancer, singer and active proponent of Salsera Dominicana.
After an extensive a widely-traveled period of touring, he returned to his native land to release the album Solo Diferente, a 13-track affair of vivacious and soulful music.
 
Skope recently tracked KAL down to ask a few questions…
 
I read that you have formal musical training. Could you tell me about it?
 
At age 10, my parents sent me to a music school in the Dominican Republic to learn the piano. By age 15, I was playing piano in a merengue orchestra. At 19, I went to play piano in the hotels in Punta Cana. In 2005, after 6 years of entertaining experience, I went to Mexico and toured with bands that entertained in a variety of hotels throughout the country. I spent this time being the main pianist in the orchestra. I love music, and beyond being a pianist, in my spare time I wrote songs and dabbled with singing. My dream was to create my own CD. After 7 years in Mexico, I took a position as a pianist in the Bahamas. Unfortunately, I was misled and the position was for an animator on the animation team. This was grueling work which consisted of 18 hours of work each day; entertaining guests by the pool, playing the piano, performing (dancing and acting) in nightly shows, and continued entertainment until the early hours. During my free time, my dream of creating my CD flourished and I would write and mix music during my free time. God heard my cries for opportunity, and in April 2013 I returned to my homeland to pursue my dream.
 
What is Salsera Dominicana?
 
The Dominican Republic is known in the music industry for its successes in Merengue and Bachata. Since 2013, Salsa has risen as the music of choice. Historically, Salsa is a Cuban/Puerto Rican favorite. Dominican Salsa has a unique flavor of its own. My initial intent was to compose a Bachata CD. I realized that it was possible to succeed more rapidly with a Salsa composition. "Salsero Dominicana" is the genre of salsa music in my country.
 
I heard that you spent 7 years playing at clubs in Mexico. Was that 7 consecutive years of touring? Any especially memorable moments from that period?
 
It was a lot of very hard work. I remember mostly the friendships that I formed and the dreams that were implanted in my soul.
 
How long did it take to compose the songs on Solo Diferente?
 
I began "Solo Diferente" in May 2013. The CD of 13 songs was completed in November 2013.
 
I know that a talisman can be a spiritual entity. Is "Mi Talisman" intended as a spiritual song?
 
Not at all. In the video the "talisman" is the momento shared between me and the young lady of the shared heart necklace.
"Mi Talisman" URL: http://www.youtube.com/watch?v=FyqdOwrrbWs
 
Was the "Mi Talisman" YouTube video filmed in Santo Domingo?
 
Yes, it was filmed in the Latin Americano Sports Stadium in Santo Domingo.
 
Do you know the lady in the video, or was she hired help?
 
She is a model hired for the project. My talisman is reserved for someone else :-)
 
What is the best way for people to purchase your new CD?
 
Currently the promotion song "mi Talisman" and 4 others are available in the Dominican Republic via various means. Promotional Cd's and varied artist CD's that are sold the people of the country.
 
Additional way to access KAL online:
 
http://www.musicxray.com/artists/eslafacebookcomkalllllll
 
http://www.youtube.com/watch?v=FyqdOwrrbWs
 
https://m.facebook.com/profile.php?id=1497587158
 
http://www.roamixmusical.com/kal-algo-diferente-mi-talisman-homenaje-a-ana-gabriel/
Ray Cavanaugh – owleyesgatsby@yahoo.com