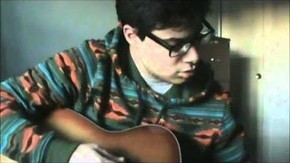 Matthew Mirliani is a surging 20-year-old singer-songwriter from Alexandria, Virginia. Influenced by Tears for Fears, Sky Ferreira, and Lana Del Rey, Mirliani combines New Wave music with alternative electro-pop. Similar to Del Rey and Ferreira, he writes lyrics that are reflective, honest, and at times dark, and employs a nostalgic, 1980's sound inspired by films such as "The Breakfast Club" and "Donnie Darko." Through his music, he intends to capture the essence of American suburbia, and as a college student, he intends to capture the disillusionment and the beauty of young adult life. Mirliani hopes to record a full-length album with a producer that believes in his sound and his image. He also plans to continue performing at various venues, and hopes to open for other artists at concerts and festivals. He has a vision for the music videos and the songs he wishes to create in the near future, and is hoping to eventually record in either New York or Los Angeles. Here's our Exclusive Interview.
How would classify your music?
My music is a mix of various genres: New Wave, dark wave, alternative electro-pop, and sadcore. It is influenced by the 1980's, ambient, synth-pop, and industrial.
'The February EP'
https://soundcloud.com/matthewmirliani/sets/the-february-ep
 
Who are some of your top 5 musical influences?  
My top 5 musical influences are Tears for Fears, Lana Del Rey, Kanye West, Sky Ferreira, and Lorde. I think Kanye West is a genius, and I love how Lana and Lorde write their music. Sky is a brilliant artist, and Tears for Fears is iconic. I love how Sky has this nostalgic sound to her music; I would love to record an album like hers one day.
How did this CD release of music come together?    
I wasn't actually planning on writing any new music this year. This EP just came together over the time span of a week. I was inspired by my recent trip to Los Angeles. "The February EP" is essentially a celebration of my distant past and a preparation for the future.
What inspired you to start writing and composing music and playing and writing in the first place?  
Growing up, I was fascinated with pop culture. I wanted to emulate my favorite artists and to tell a story with my music. I also wanted to transcend my suburban upbringing, while still capturing its subtle complexities.
How's the music scene in your locale? How were the 56th annual Grammy Awards?
Alexandria, VA has a great venue for indie artists called The Lab All Ages. It is an awesome place.
The Grammy Awards were amazing. I attended the ceremony with my sister. We loved all of the performances, especially Katy Perry's, Taylor Swift's, and P!nk's. We are big fans of theirs. It was also incredible just to be back in Los Angeles. It is a constant source of inspiration for me.
How have you evolved as a DIY artist, composer, musician over the last few years?
I believe I've become a more mature writer. I am more adventurous with my lyrics and with my melodies. I am constantly looking for new influences. I also cannot stop writing. Whenever I walk around, I have to stop and write lyrics on my iPhone. Everything inspires me now; it could be a simple phrase, a memory, or a beautiful visual.
What's next for Matthew Mirliani?
 
I am planning on promoting my new release "The February EP" by performing again at The Lab in Alexandria. I am also hoping to perform in New York at some point and to film my first real music video.