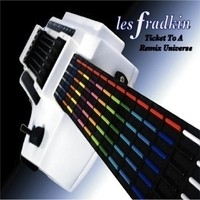 The King of MIDI Guitars is back with a Beatles dance party explosion on 'Ticket To A Remix Universe'!   You will hear Beatles classics like you have never heard them before!   And Les Fradkin is no stranger to The Beatles scene as he actually played the late, great George Harrison in the Broadway smash "Beatlemania" during the late 70s.   Paying homage to one of his major musical influences, Les is taking Beatles music to a place where no one has ventured before!
With the exception of the opening number & title track, Fradkin has devoted everything to Beatles material on the new project.   'Ticket To A Remix Universe' is an original composition that definitely sets the mood for the entire album.   What you get is a club mix in something I'd like to refer to as New-Age, Electronic Madness!  
With elements of modern trance, EDM and Progressive & Psychedelic Rock, Les Fradkin is offering up a whole new experience and brand new way of enjoying timeless songs by The Beatles.   Just in time for the 50th Anniversary of The Beatles arrival in America, 'Ticket To A Remix Universe' will provide you with one heck of a trip.   One will hear a universal sound on "Across The Universe" and then turn around and take in some international spice on "The Inner Light".   The song "Rain" is depicted nicely where Les Fradkin simply nails the whole feel & atmosphere.   Three of my personal favorites on the record are: "Strawberry Fields Forever", "Eleanor Rigby" & "I Want You (She's So Heavy)".   Fradkin's version of "Strawberry Fields Forever" simply blew my mind where Les seemed to hit all the right notes.   The style of this classic number fit in perfectly with Fradkin's 21st Century, "New Media" approach to music making.   "Eleanor Rigby" was equally as impressive to me where all the parts worked so well together and the sound effects were on fire!   Other tracks on the album include: "Ticket To Ride", "Things We Said Today", "Any Time At All" and "I'll Be Back".  
Overall, I was incredibly impressed with Fradkin's efforts on this 11-track recording where the listeners will pick up on wonderful arrangements & wildly inventive tunes.   Not to mention one will bear witness to one-of-a-kind guitar playing by The King of MIDI's himself!   The Dance vibe is in full effect where Les Fradkin is capturing true magic & standout moments on tape.   This modern day artist/composer/producer provides a hip 'n' cool twist to masterpieces written & recorded by the legendary Beatles.   As a humongous fan myself and The Beatles being my favorite band of all time, this was a real treat for me personally.   And more importantly coming from a Beatles fanatic, I have to say that Les Fradkin did justice to them by honoring the "Fab Four" in unique fashion.   I'd actually love to hear what Paul McCartney & Ringo Starr have to say about Les Fradkin's work.   Grab your 'Ticket To A Remix Universe" right now and enjoy the ride!   This is one journey you will not soon forget.  
https://itunes.apple.com/us/album/ticket-to-a-remix-universe/id524694749
5/5 Skopes
By Jimmy Rae (jrae2@att.net)