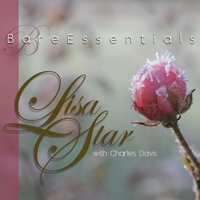 This is an incredible disc. Mind you, it's an understated release featuring just the jazz guitar of Charles Davis and the dreamy vocals of Lisa Star. It's also incredibly beautiful. The format never gets old and there are some truly exceptional moments here.
PASSION STAR RECORDS: http://www.passionstarmusic.com/lisa-star.html
The disc opens with "On a Clear Day (You Can See Forever)." Mellow acoustic guitar brings a great jazzy vibe to the table. The vocals glide across the top, adding to that jazz sound. This is very much mellow jazz at its finest.   "In a Sentimental Mood" is such a classy tune. Its gentle jazz stylings are delivered in style and the guitar solo is melodic, tasteful and tasty. Overall the musical concept isn't changed much on "Quiet Nights." Of course, when it's this good, that doesn't matter much. There is almost some soulful funk in "God Bless the Child." That said, although the arrangement is a bit more energized and full, this isn't a huge change from the rest of the music here.   For some reason, I think I like the vocals on "The Look of Love" better than the rest of the set. Considering how strong Lisa Star's voice is throughout, that says a lot.
There's a bit more of a bluesy rock vibe on "(You Make Me Feel Like) a Natural Woman," but it's only in shades. Overall, this is more of that jazzy sound.   I've always loved "The First Time Ever I Saw Your Face." Although, this is a stripped down arrangement, I think it works really well and feels pretty similar to the original. That said, I think I might like this one even more, in part because I like Star's voice more than I do Roberta Flack's. With "Wichita Lineman" Star takes on Glen Campbell. The jazzy treatment is definitely a big change, yet it works quite well, really. "Imagine" is another that's rather unexpected. It's also quite potent. This is arguably one of the strongest here and has some folk and rock added to the musical mix.   "Love Song" closes the set.
All I can say is "wow!" I love the Elton John version of this cut, but this one is just as good. Mind you, it's a completely different take on the piece, but it works so well. It works out into some rather spacey territory late.
Score 4/.5/5 Stars
Purchase Link: https://itunes.apple.com/us/album/bare-essentials-feat.-charles/id586863349
Edgar Price approved by Mindy McCall
Review comments: indiemindymccall@gmail.com