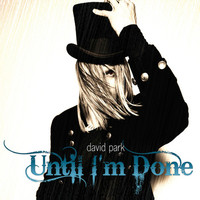 Swedish singer/songwriter David Park is a hot up and comer based primary in the Swedish midlands. His unique music is steeped in Rock, Blues, Bluegrass to Rockabilly. His latest CD "Until I'm Done" embraces the rich heritage of all of the above genres, while holding his own within his deep and versatile voice and exuberant writing and playing style. All of this and more tie the album together nicely, even as the music skips around and delves into unsuspected territory. This is more than just Blues, I can even hear Hard Rock, Rockabilly, Bluegrass and Saloon style Jazz woven within the musical fabric. Citing from his Bio: Deep from the Swedish midlands Valleys a new genre of music developed. It's a unique crossover between the attitude, sound and energy of Hard Rock and the Old Style Bluegrass. Like a meeting of bands like Foo Fighters, Entombed and Lanyard Skynyrd jamming with artists like Bill Monroe and Flatts n' Scruggs. This new genre is called Swedish Country and its pioneer is life long musician David Park. Band consists of: David Park (Banjo and vocals), Dan McKenzie (Drums), Conrad Boqvist (Guitars) and Martin Willhelmsson (Upright Bass).
The album starts off with the track title track which is a frantic-rock ballad which is comparable to a welcome mat giving the listener a positive premonition of things to come. All 10 tracks have everything the tile implies heavy with Rockabilly, Americana, Blues. Music sounds like Stevie Ray Vaughn and Double Trouble, Weird All Yankovich, Peter Frampton, David Byrne and even Soundgarden. Does all that sound like a   whacked out combination or what? Next up is my favorite track on the set: "The Ballad of David Brown" and up tempo bass driven piece with melodic vocal flair from Park. Just when you think you got this guy pegged the next few tracks prove you wrong. "Regretting Song" whips you around like a wild tornado and "Private Paradise" will blow you away with almost a rocked out Days of the New vibe. By track 5 this CD hits solid stride and keeps coming at you one incredible track after the next. "I Don't Believe" has a sad ring of truth to it while "Country-boy will cause your jaw to hit the floor. Hardcore Truckin' is a total riot.   Finally"One and One is Three" and "Now I will Never Know" wave you in for a safe landing thus ending the CD on hopeful, passionate notes.
After listening to "Until I'm Done" by David Park it's evident to me his talents are far beyond what I imagined or even expected. He has a voice and look that many people will gravitate towards no doubt. His banjo playing is hot to the touch and his band is to the same level of his singing and songwriting. The combination of vocals, rhythm section and rockabilly style fretwork really brings it all together. For the record – the rockabilly style guitar work from Boqvist is some of the best I've heard. David Park Band is a real force to be reckoned with over in Sweden. One would be wise to keep a watchful eye on him over the years to come.
Purchase Link: http://www.emusic.com/album/david-park/until-im-done/14498970/
Final rating: 5/5 Stars.
Submitted by Andrew Cyr edited by Janne Zawa
Review comments: jannezawa@gmail.com