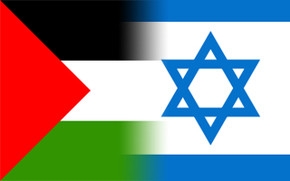 The non-profit organization Heartbeat's ensemble of Israeli and Palestinian youth musicians (ages 18-22), who work to overcome conflict in their region by countering segregation and xenophobia, will tour the U.S. beginning February 20. The itinerary (see below) includes universities and clubs, and concludes with a performance and briefing at the U.S. Congress, where Heartbeat members will call for a $50 million investment in people-to-people diplomacy through the International Fund for Israeli-Palestinian Peace.
As the eyes of the world turn to top Israeli, Palestinian, and American leaders in the final scheduled months of negotiations, Heartbeat takes the stage across the U.S. to call attention to the vital role of civil society in building a lasting, just peace. In the months and years following this round of negotiations, true peace will only be built when the Palestinian and Israeli people come to trust and respect one another. Working to overcome the segregation, violence, fear and xenophobia that fuels the conflict, Heartbeat's tour aims to amplify the voices of the silent majority of Palestinians and Israelis who yearn for a safe, equitable future.
Based in Jerusalem, Heartbeat is an international non-profit organization uniting musicians, educators, and students to build mutual understanding and transform conflict through the power of music. Founded in 2007 under a Fulbright-MTVu award, Heartbeat creates opportunities and spaces for young Israeli and Palestinian musicians to work together, hear each other, and amplify their voices to influence the world around them. Sharing in sustained music-based dialogue, Heartbeat youth develop creative nonviolent tools to express themselves and become a voice for their communities.
Visiting some of the world's most celebrated universities and music venues, the tour program will feature uplifting performances interweaving traditional and modern Eastern and Western music. Heartbeat members will further engage audience members through interactive workshops and will share their experiences of growing up amidst the Israeli-Palestinian conflict, highlighting their creative effort to build a better future as members of Heartbeat. Each event offers a unique window into the lives of these courageous young artists and will forge lasting connections between U.S. communities and the Heartbeat movement in the Middle East.
Heartbeat's youth-led movement combats the tidal wave of separation, fear, violence, and injustice with powerful sounds and voices calling for cooperation, equality, and peace. The Heartbeat message inspires people of all backgrounds to work together to be the change we seek.
All tour performances are free to the public and open to all ages.
The Heartbeat U.S. Tour
2.20 — Clinton, NY — Hamilton College
2.21 — Bennington, VT — Bennington College
2.22 — Boston, MA — Harvard University
2.23 — Boston, MA — The Boston Jewish Music Festival
2.24 — Boston, MA — Boston College
2.25 — Windham, ME — Windham Raymond School
2.26 — Burlington, VT — University of Vermont
2.27 — Middlebury, VT — Middlebury College
3.1 — Philadelphia, PA — Congregation Rodeph Shalom
3.2 — Penn Valley, PA — Congregation Beth Am Israel
3.5 — New York, NY — Le Poisson Rouge
3.11 — Washington, DC — The U.S. Congress