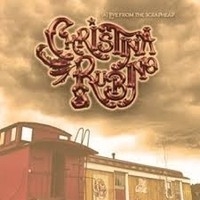 Usually when someone's life changes in seven seconds, it's something bad, like a horrific accident. Not so for Brooklyn native Christina Rubino, a former teenage couch-loafer and TV addict, whose destiny was forever altered when she observed a "seven-second snippet of music." This particular snippet belonged to Janis Joplin's "Piece of My Heart," which played as part of a commercial advertising a Time-Life 1960s music compilation.
An epiphany it was. Young Ms. Rubino promptly abandoned the couch, obtained all available cash, and hopped the next bus to a guitar shop, where she purchased a basic acoustic, despite not having enough to foot the sales tax ("the salesman felt bad for [her] and gave [her] a discount").
Since the age of 18, Rubino has played guitar and sung for bands, including an all-girl outfit called Violator, which sounds pretty awesome. Though she enjoyed the "travel and fellowship" of the band, she came to embrace the role of solo performer.
Alive from the Scrapheap makes her full-length solo debut. About this album, she says: "I swore most of these songs would never see the light of day. They were too personal, too embarrassing. It was difficult to even play them in front of my producer."
The album immediately establishes its folksy tone with the track "The Gateway." Rubino's vocals very well complement this type of music. Her voice is not only pleasing but also emotionally expressive. Is this a recording from a live performance? I ain't 100% sure, but it does have that close-up, intimate kinda feel.
Rubino's vocals tap the emotions again on "Pending the Last Soul," a track which also features some thoughtful-sounding blues guitar.
Some pretty raw lyricism comes courtesy of the track "Tidal." It's difficult for me to objectively assess the lyrical content, because I'm biased since the vocals have me so smitten.
Along with the fine singing, the track "Breakout" provides a rather heartwarming acoustic guitar melody.
In case I haven't made it abundantly clear, Ms. Rubino can sing — both in the harmonic and spiritual sense of that word. If by chance her solo act doesn't come to full fruition, she'd be a prized asset to any band in her genre.
As it stands, this is an earnest and eminently likeable album.
Alive from the Scrapheap will see its release on March 1.
Get the latest scoop at: http://www.christinarubino.com/
Make a much-deserved visit to: http://www.reverbnation.com/xtinarubino/songs
Friendship awaits at:   www.facebook.com/christinarubinomusic
Ray Cavanaugh – owleyesgatsby@yahoo.com