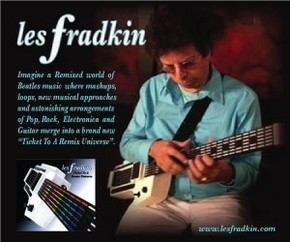 Hello people of the world, hope you are well. Before we begin I want to congratulate Bruno Mars. Bruno Mars made history Sunday night with the most watched SUPER BOWL HALFTIME SHOW with a record breaking 115.3 million viewers. That figure surpasses the 110.8 million delivered by Beyonce last year and the prior record of 114.0 million set by Madonna two years ago. He was also the youngest artist ever to serve as the sole NFL Super Bowl Halftime headliner. Whether you like his music or not, that is awesome! I also must mention U2 & Bank Of America   with over 3 million free downloads on iTunes February 2-3, the song generated more than $3 million from Bank of America to support the work of the Global Fund to Fight AIDS, Tuberculosis and Malaria. It is good to see a bank using music to do good, keep going BoA! Now if you are a Beatles fan I have got a special treat for you. Les Fradkin has craeted a world where everything by The Beatles seems familiar but everything is merged into a Remixed Universe. This release also coincides with the 50th Anniversary of The Beatles arrival in America. Join us today as Les Fradkin speaks on music way before the Internet, the release of "Ticket To A Remix Universe", the 50th Anniversary of The Beatles arrival in America, and so much more!
Stoli: Where are we talking from and how do you feel about Colorado's legalization stance on marijuana?
Les Fradkin: I'm coming to you from Colorado. I have never smoked Marijuana and I do not endorse the use of it. Therefore, I can not give you an opinion of Colorado's endorsement.
Stoli: Your bio is simply an inspiration. At what point in life did you know that music was your calling and how did you get started?
Les Fradkin: Bach was introduced to me as a child by my Mother who was a Classical Concert Pianist. I loved Bach's work immediately. It spoke to me, as did Mozart, Paganini, Vivaldi and other Classical and Baroque composers. When The Beatles, The Left Banke, Procol Harum, The Moody Blues and other groups came along, I saw that Classical, Baroque and Rock could be effectively combined. Actually, when I saw the Beatles on Ed Sullivan, I said to my father: "That looks like a good job!" Given my earlier success in Beatlemania, I guess, I got the job!
Stoli: You have been in music way before the Internet & social media and streaming/downloads. Do you think the industry is better off today with the technology or do you yearn for the past?
Les Fradkin: To quote George Harrison: "Yin & yang. Heads and tails, yes and no". The scene today is very cluttered. But, as with times in the past, there is some great music out there. But it's hard for worthy Artists to get attention when everyone and their relatives thinks they can make a hit record. My humble opinion is to say: hat skill is still elusive for most and I'm grateful that I have deep enough experience as a Multi instrumentalist, composer and producer to deliver the best music that I still can in the tradition that I've always tried to maintain. On a side note, I do not think there is enough emphasis today on musical discipline and real performance.
Stoli: You and your fans are celebrating the release of "Ticket To A Remix Universe." When did you decide that you want to embark on this project and how long did it take to record & complete?
Les Fradkin: The original idea came to me in 2009 when I discovered Trance music. I saw some characteristics in that sound which could be adapted to my MIDI Guitar approach. I'm always looking to merge and hybrid different styles and genres. The album was completed in 2012. I decided to delay it's promotion until the 50th Anniversary of The Beatles coming to America.
Stoli: How did you choose the songs that are on the album and did you have any issues with using the Beatles music for this album?
Les Fradkin: There were no issues with obtaining mechanical licenses for this album. Went thru the Harry Fox Agency for that one.
As for the choice of material, the original idea for this album evolved from the popularity of mashups on YouTube with Beatles material. Unlike those kids who might not be able to play loops and ideas, I prefer to perform the loops and other elements myself. With very few exceptions, I played all parts on the recording, save for a few loops from looperman.com. All the Beatles guitar bits are played by me. If they sound like George, John or Paul, it's because I've been trained to play them that way. Kudos to the Beatlemania Broadway show for that education. The specific Beatles material was chosen for it's malleability to the sonic concept and the arranging approach.   I felt that these songs also stood up as Instrumentals. That was a challenge since fans are used to hearing these songs with the words. As each song "came together", the later song choices became easier.
Les Fradkin on SoundCloud:
https://soundcloud.com/lesfradkin/ticket-to-a-remix-universe
https://soundcloud.com/lesfradkin/02-presto-variationi
Stoli: You have timed the album to the 50th Anniversary of The Beatles arrival in America. What does that moment & the music of the Beatles mean to you personally?
Les Fradkin: The Beatles showed an entire culture and generation that positive change was possible. They innovated in so many ways. And, needless to say, their influence struck me in a very significant way, perhaps, the most significant of any Pop Artists.
Stoli: How have your fans taken to the album and are other Beatles fans coming on board and showing love to the album?
Les Fradkin: For longtime hardcore Beatles fans, this album might be a bit of a challenge. But well worth the exploration. Most of the "fans" of this album are coming from a younger demographic than the boomers.
"Ticket To A Remix Universe" Buy Links:
Apple iTunes (US):
https://itunes.apple.com/us/album/ticket-to-a-remix-universe/id524694749
https://itunes.apple.com/us/artist/les-fradkin/id6110150
Amazon (US):
http://www.amazon.com/gp/product/B0080E97HK/ref=dm_att_alb1
Amazon (UK):
http://www.amazon.co.uk/Ticket-Remix-Universe-Les-Fradkin/dp/B0080AHUPA
Amazon (Germany / DE):
http://www.amazon.de/gp/product/B0080ARO9C/ref=dm_ws_sp_ps_dp
Stoli: I love what you did with "Strawberry Fields Forever." Explain how you approached that hit song and came up with your own version & vision?
Les Fradkin: Thank you for the kind compliment! "Strawberry Fields Forever" is my favorite Beatles song. A masterpiece of 60's production. But I never consider anything as a "Holy Grail" which can not be seen in a new way. This is my second Instrumental recording of that tune. This particular version has some interesting arpeggiator approaches and uses an out of phase Fender Stratocaster sample as it's lead sound. In fact, the Ztar MIDI Guitar performance on that song is a new way of playing MIDI guitar. New tuning, new bending and slide approach. Pretty radical, really.
Stoli: When you are not making music what do you enjoy to do?
Les Fradkin: Well, music is always relaxing for me. So that never feels like a job. Additionally, I love to travel and my wife, Loretta, and I do that every chance we get. Certain TV shows maintain my occasional attention. And I love to read. I stay healthy by watching what I eat and getting exercise and trying to live a simple life. Of course, being on the Internet is never really simple, is it?
Stoli: Do you think any Beatles alive or dead would enjoy what you have created here and who is your favorite Beatle?
Les Fradkin: My favorite Beatle is George Harrison. I think if Paul heard this, he would love it! He advertises my previous covers of his solo material on his mpl.com site.
Stoli: What is coming up for Les Fradkin and where you @ online?
Les Fradkin: Next? Just keen to keep improving as a musician, composer and as an Artist. I continue to compose and make music all the time. My next album should be done by summer. Online?:
http://www.lesfradkin.com
http://www.reverbnation.com/lesfradkin
https://www.facebook.com/lfradkin
http://www.youtube.com/user/lfradkin
https://twitter.com/lesfradkin