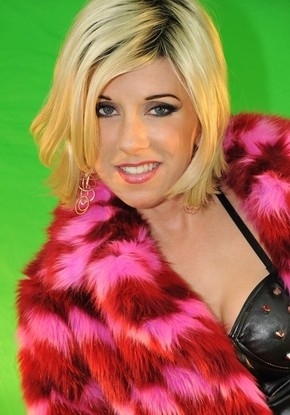 Skope: You've got a new max-single, what's it called? Your debut single "Look Away" has good buzz, can you describe your sound to our readers?
Eliza: I self-titled the Maxi-Single   "Eliza" [pronounced "Eh-lee-zah]. It contains LOOK AWAY, but also 2 other tracks "ANYTHING CAN HAPPEN", & "BOYS LIKE YOU".   Since the full album [Anything Can Happen] hasn't been released yet, I didn't want to confuse people by giving the maxi-single the same name as the album. As for my sound, I'm honestly not sure how to describe it. Some people say I'm a meld of Ellie Goulding, Lady Gaga, Deamou5, & Adele.
Skope: Electropop has slowly but surely become the genre of choice for many songwriters, what is the appeal as an artist? Do you consider yourself electropop?
Eliza: Electronic music, EDM, Trance, …it's all stuff I enjoy listening to. I can't speak for everyone else, but it appeals to me on some sort of cellular level. There's a drama & darkness to it that I can relate to. And that's why I enjoy creating in that genre as well. It allows me to tap into my inner demons, …and release them on the dance floor! Lol!   Hmmm, do I consider myself "Electro-Pop"? I'm not crazy about labels, but I suppose it describes my music to some degree.
Skope: What is "Look Away" about? Are your songs written from an inside perspective i.e. your own experiences or are you more of a storyteller?
Eliza: Look away was inspired by a friend's young daughter who became a meth addict. It's about how we sometimes miss the clues when someone is in trouble, and how hard it is to get out once your there. As a storyteller, I write from many different perspectives but most times in the 1st person.
Skope: I read that you are not only a songwriter, but a music producer as well. What gear do you use, do you have a home studio or are you part of a studio group?
Eliza: I have a ProTools home studio, Korg Keyboard, Neumann mic, and Mercury Waves, standard stuff. I consider myself a composer mainly, and I actually co-produce, with John Keenan of JCK Music. I think its optimum to have a separate set of ears to assist when it comes to mixing & production. But I'm definitely there throughout, micro-managing. I'm a control freak!
Skope: Dance music has always been popular overseas, why do you think it took such a long time to go mainstream in North America?
Eliza: Are we talking EDM? Hmm…tough question. Not sure why it's taken awhile, & I'm not even sure if I would say it's mainstream. But you hear EDM & dance music more & more in commercials lately, and also in the music of mainstream artists. Dance music amps you up. I think both advertisers and recording artists see the value in getting people excited, whether it is for a car or a song. And both music & advertising play a major role when it comes to creating trends.
Skope: "Look Away" is actually from your upcoming album "Anything Can Happen" which comes out in March '14, What sort of surprises are listeners in for? What sets this album apart?
Eliza: I think if anything, what sets me apart would be my sound. I borrow a lot from the past and the bands that influenced me like Depeche Mode & Utah Saints…then combine it with elements of Trance & House, and top it off with vocals & song structures that are more Pop-like. I think people might be surprised by the different vocal treatment & production of each song. Each song is kind of its own thing.   And I think people might also be surprised to know that I not only wrote, but performed most of the music on the tracks myself.
Skope: Where can Skope readers check out your music and discover more about you as an artist?
Eliza: Listeners who wish to buy my music can find it here: https://itunes.apple.com/us/album/eliza-single/id797671065
And if the want to learn more about me, the can vist my website at: http://www.eliza-muzic.com/
Keep up with Eliza http://www.eliza-muzic.com and be sure to hear her hot debut single "Look Away" plus "Anything Can Happen" & "Boys Like You".
Douglas Garnett – douglas.garnett@gmail.com