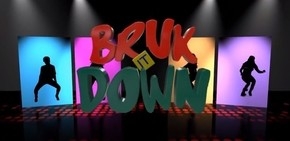 He has sold numerous records, packed stadia internationally and has more number ones than most dancehall artistes of his calibre, but Mr. Vegas has now moved into the realm of television by conceptualizing dancehalls first reality television series dubbed Bruk It Down To Reality.
Bruk It Down To Reality is Mr. Vegas' effort to capture Jamaica's dance culture and history through a one hour reality series showcasing female dancers from   Jamaica and around the world,   competing to be the 'Bruk It Down to Reality Queen'. Along with O'Neil Walters, noted video director   from Sretlaw Media, Mr. Vegas is now on a campaign to sell it to the world.
According to Walters: "The marketing for the series has been stepped up on social media channels such as Facebook, Twitter, Instagram & YouTube. We are now featuring behind the scenes photos & videos from the pilot show. These posts have already created instant excitement and interest from Jamaicans, dancehall lovers and Mr. Vegas fans from around the world".
WATCH THE PILOT: http://youtu.be/az6uBQ6_FIo