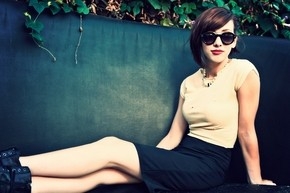 Hello out there music lovers of earth, hope you are all well. I do not want to overindulge on the Grammys but if you go online & thru social media you hear a lot of negative. All I have to say is you do not have to listen to that mainstream pop and if you spend time on Skope and many other sites there are thousands of awesome bands/musicians that would love you to be a fan. That is a promise for sure. I also want to note what David Bakula, SVP Industry Insights, Nielsen Entertainment said, "despite shifts in how music is consumed, we see continued growth in overall music consumption, with more than 118 billion streams in 2013 reported by our data providers, which is the approximate revenue equivalent of 59 million albums purchased, the industry remains vibrant as consumption continues to change and expand. 2013 was also great year for creative album release events." According to Bloomberg Businessweek, Pandora & Youtube are the top streaming spots. Now lets get to my guest today Lindsey Saunders who is as talented as she is beautiful. Her sound & songwriting simply force you in and do not let go, and that is okay with me. Join us today as Lindsey speaks on her EP "Nothing Normal", judging females musicians, the video for "Make or Break Us", and so much more!
Stoli: Where are we talking from today and how is 2014 so far for you?  
I'm in Colorado as of now, and so far 2014 is bringing a lot of adventure and excitement for me with lots of touring which is awesome!
Stoli: If you have two goals for the new year what would they be?  
If you've listened to my music, you probably know that I play and write with acoustic guitar, but a big goal for me is getting more acquainted with electric. I'd love to see how it factors into some of the new songs I've been working on. That and playing Film on the Rocks or any show at Red Rocks Amphitheater, a goal I'm sure just about every Denver artist has set for themselves!  
Stoli: You have an amazing voice that is contagious. At what age did you realize your talent and decide to pursue music as more than just a hobby?  
Thanks so much! I've been singing forever. I was the geeky little 4th grader who got her dose of popularity (short-lived as it may have been) every time the annual talent show rolled around. But everyone knows that it's hard to make a living off music. Because of that, I had a few other ideas about what I was going to be doing after High School and it really wasn't until my senior year that I made the official decision. Believe it or not, my parents gave me the freedom to decide for myself which setting would best help me develop as an Artist. I considered University but for me, learning by doing has always been more productive! If it weren't for them I'd probably be in school getting C's and wondering what I was doing with my life.
Stoli: I am blown away at your EP "Nothing Normal" and the fact you released it at 18. What would you say has allowed you to be so driven and ambitious to put out such music at such a young age?  
Well, it's like the expression goes, "If you do what you love, you won't work a day in your life". When I wrote those songs, I didn't necessarily feel driven or ambitious. In fact, I had a lot of mixed feelings because I knew I was supposed to be working on getting some decent grades so that college was an option. When I was writing, it felt like I should be doing homework, and when I was doing homework I knew I wanted and needed to be writing. It's nice that people view my work the way you do, because it validates that I put my time into the right things. It's proof that when you put your heart into something you really do get out what you put in – and it also saves you from wasting a whole lot of energy.
Stoli: Would you say that your friends & family have been supportive of your music journey?  
Yes, yes and yes! There's absolutely no way I'd be doing any of this without them!
Stoli: How long were you writing & recording "Nothing Normal" and where can we grab a copy?  
The music was written over a span of two years, but the recording itself – at least my part of the process – took about a week. We worked really fast on that. Two days of rehearsal with the band, two days of tracking with the band, and one day of my vocals. Needless to say, it's done now! And you can order a physical copy off http://LindseySaundersMusic.com, or a digital one from just about anywhere: iTunes, Amazon, my web site, listen on Spotify or SoundCloud – you name it!  
Stoli: I love your song "Change My Mind." What is that song about and what inspired you to write that song?  
"Change My Mind" is what I like to call an "angry chick song". There's a lot of angst in that one. The funny thing is that none of those songs are actually about anything that happened to me at the time. I used to think that my music told the future because any time I'd write a song it would have nothing to do with what was going on with me, but somehow I would always end up being able to relate to it later down the road. In a way, it seems like these songs came to me. Not the other way around. They just sort of happened!
Stoli: I watched the video for "Make or Break Us." Who came up with the concept to the video and how it relates to the song?  
I actually came up with the concept for the video. I must have driven Andrew (the director) crazy because I changed a lot of things at the absolute last minute! At first I wanted to make some kind of statement about female empowerment or sexism and I was going to be the lead female in the plot, but then I had a change of heart. I want my music to relate to as many people as possible. Not just women. I don't think Make or Break Us is a song that only women can relate to. It's about standing up for yourself and deciding which things about yourself you're willing to change for someone and which things you're not willing to change at all. I see a lot of guys struggle with that, too. So instead of the female being the "victim", I decided to switch it up. Then I made myself a narrator in the whole thing, which is really more what I am in real life.
"Make or Break Us"
http://youtu.be/rcJOPZI5N9g
 
Stoli: You are obviously very pretty. Do you feel like female musicians are not only judged on their music but image and do you think that is fair?  
You're making me blush! To be honest, I don't think it's just women that are judged on their appearance. There definitely is an "ideal" look for men in this industry as well and while perhaps it's not quite as severe, it's just as unfair. I was really tempted to leave myself out of the album artwork for that reason, but in hindsight it was a good decision for me because I think it makes an artist more real to people when they can recognize you in person. Lucky for me, I have the power to control how "sexy" my branding is. Yes, I happen to be a size double zero, but I can't help it! Believe me, sometimes I really wish I had more curves! But at the end of the day that's really not what it's about. I like to think that even if I didn't look the way I do, I would still own it because it's so important to be honest with your audience. Call me an optimist, but I think people value authenticity, even when it comes down to physical appearances. Besides, what IS pretty anyway? Beauty is in the eye of the beholder.    
Stoli: How much time per week is devoted to your music and do have any other hobbies or interests besides music?  
It changes from week to week. My schedule can be really crazy sometimes but I try to do at least two hours of music a day just on my own. Then there's band practice, which is two nights a week for three hours each. Then there's whatever shows I might be playing in a week, which range anywhere from an hour to three hours. All that together easily takes up half of my week, and that's not counting all the other things I've been learning along the way when it comes to business stuff. Putting together a full band has been a huge investment of time as well as learning about ProTools, syncing audio with video and understanding how management teams work. I've been working toward being as self-sufficient as possible in those areas.  
Stoli: If you were to have a Pandora radio station, what three musicians would be on there as well?  
Good question! I'd like to think it would be John Mayer, KT Tunstall and Chris Cornell.  
Stoli: What is coming up for Lindsey Saunders and where you @ online?
Something that a lot of people don't know about me is that I write instrumental music as well as pop, so I'm about to release an instrumental EP which will feature the music that I wrote for modern dance choreographer, Catherine Tiso in Chicago. I also have a lot of new pop songs that people don't know about that I'm going to continue getting ready for release. I'm really excited to play Colorado International and Sundance Film Festivals plus SXSW. If you'd like to see what other shows are coming up, you can go to http://LindseySaundersMusic.com or http://Facebook.com/LindseySaundersMusic. You can get a sneak peak at some of the music that hasn't been officially released by looking me up on YouTube and Soundcloud, too!