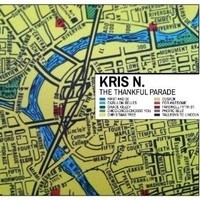 Indie pop group Kris N is making waves again with their latest effort "The Thankful Parade" and as the title suggests, it's a celebration of life with a dreamy pop flair.
"First and 10" begins with an 80's new wave flair, straight out of a John Hughes prom scene. "Carillon Belles" carries the balladry along with optimism and harmonized choruses.
"Grace Killey" big drums and an Interpol sounding guitar dominate this track.
"Choo-Choo-Choose You" was inspired by Lisa Simpsons Valentine's Day card on an episode of everyone's favorite yellow family The Simpsons. A song of affection for Kris's newfound love, he resounds "and I pray the car won't start" so he can jump back into bed with his companion and bassist.
"Christmas Tree" has a Detroit rock sound ala Sponge [remember them?]. "My hearts on fire like a Christmas tree"…
"Cusak" is an ode to Kris N's favorite movie Hi Fidelity. As a fan of John Cusak films myself and having the pleasure of meeting him during the filming of that cult fave, I can dig this track alot. It's a bit odd, but the girl/boy chorus works well.
"For Awesome" is a big beat rocker with a Joan Jett guitar and Cure keyboard. Kris's vocals keep things in check, though sometimes buried a bit by the bombast, as it should be with any good rock song.
Buy: http://www.amazon.com/The-Thankful-Parade-Kris-N/dp/B00FN8EK3C
"Farewell Fifth Street" shows a more soulful side with an organ guiding the way, treading into 70's AOR. The Boss [Mr.Springsteen] feels like an influence on this workingman's jukebox affair.
The tempo picks up with "Pacific Blue", a bass and drum anchoring the verses before guitars and synths kick in for the big chorus riff. One thing for sure, Kris N knows how to write a memorable hook.
"Tallboys To Lincoln" reminds me of something by Bright Eyes, but I can't quite put my finger on it.
"Tallahassee" is a simple guitar and whispered vocal "my life as a story, you put a face to my dreams". The album ends on a quiet note.
https://www.facebook.com/krisnpoptek
Douglas Garnett – douglas.garnett@gmail.com