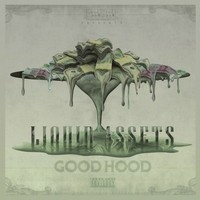 You just might want to invest in GooD HooD because they're about to shut it down on their new release called 'Liquid Assets'.   GooD HooD is a dynamic duo made up of lifelong friends Roger "Deuce" Brown & Sab'rey Smith.   Growing up in the so-called "North Pole" of Chicago and now living in Washington D.C., Deuce and Sab'rey have been on a rap attack ever since their early days with the group The Billa Click.  
I had the chance to get to know these guys better during an interview for Skope back in 2012: (http://www.skopemag.com/2012/02/07/jimmy-rae-dares-to-ask-whats-so-good-about-this-hood).   What Deuce said then that "GooD HooD represents good music from hood influences" stands true to this day.   That is exactly what you're getting on 'Liquid Assets' where I'd like to refer to the album as smooth street music with a crazy, fresh flow.   What I'm hearing is tough-nosed hip-hop with a real message.   The new record features 12 blazing tracks with five different producers on the mixing & mastering.   There are also some featured guest artists on the CD: Black Cobain, Lungz, JoRob & Sunni Mone.   And with some hints of Soul and direct-to-the-core lyrics, it comes as no surprise that GooD HooD's musical influences cover a wide spectrum of artists & genres.   Here are just some of the acts that inspire Deuce & Sab'rey to get up every day and make music:   The Billa Click, Notorious B.I.G., Tupac, Eminem, Outkast, DMX, Nas, Twista, Crucial Conflict, Do or Die, Psychodrama, AZ, Scarface, Jay-Z, Bob Marley, Al Green, Marvin Gaye, The Isley Brothers, The Beatles, Alicia Keyes, Chaka Khan, Michael Jackson, Wu-Tang Clan, NWA, Curtis Mayfield, Bill Withers, Rakim, Jadakiss, Three Six Mafia, KRS-One, Snoop Dogg, Outkast, BoneThugs-n-Harmony, Stevie Wonder, Nirvana, Red Hot Chili Peppers & Bob Dylan.   Just like Sab-rey said back in 2012, which is simply that GooD HooD is all about making "awesome music"…period…end of conversation!
"Quotables"
http://www.youtube.com/watch?v=QSXrmnF1jzw.  
So then you may be wondering if 'Liquid Assets' is all that & worth the investment and my answer to you is a big Hell Yeah!   "Awesome" for sure as GooD HooD serves up some stone cold rhymes and major depth from song to song.   The DC duo is going into "Beast Mode" and letting their "teeth show" on track two with a hype feel and bangin' beats.   They follow up nicely with another high-energy track titled "Boom ft. Lungz", which says it all!   On this song, GooD HooD is going into party mode & makin' you bounce with some noticeable skills on the turntable.   "Boom" will make the ground shake & the Earth tremble as Deuce & Sab'rey prepare to move all over the stratosphere on this joint!   Calming things down a bit & lightening the mood, GooD HooD offers up a laid-back jam called "Cloud 9" that will have you floatin' in the sky while listening to "Mary Jane"(Rick James).   Flipping the switch, GooD HooD turns the tables once again and dishes out some sexual references & innuendos on tracks 5-7.   "Red 2 Go ft. Sunni Mone", "Ecstasy ft. JoRob" & "Pretty Green Eyes" will delight & excite the senses as GooD HooD invites you to experience a "Sexual Healing" (Marvin Gaye) of sorts.   Track eight "Quotables" will inspire you as you hear powerful & memorable quotes from major figures such as: John Lennon, Bob Dylan, Christopher Reeve & Confucius.   Next up is "Blood Brothers" that takes you to the "urban jungle" where it's all about "survival of the fittest".   The tag team champs are givin' it to you raw as they are just "soldiers in the world goin' down in the streets".   Roger "Deuce" Brown and Sab-rey Smith are "Blood Brothers" 4 life and their deep-rooted connection comes across loud & clear on the record.   The song "Jordans ft. Black Kobain" paints a vivid picture of life in the concrete jungle where you get a glimpse of "another pair of Jordans hangin' from the telephone poles".   Track 11, "First Class", is just that complete with "Big money, fast cars with the top down" while GooD HooD closes the show with some "Loose Change" that is straight from the heart.
So in the end these talented rappers have a lot to say with plenty on their mind as they unleash the beats on 'Liquid Assets'.   The 12-track recording is musically & lyrically rich with a nice mix of material.   Standout tracks for me personally are: "Beast Mode", "Boom ft. Lungz", "First Class" & "Loose Change" because of the cool flavor & catchy flow.   I highly recommend the entire album because GooD HooD is bringin' the noise as they strive to be the "dopest group in the game today!"   You can safely put all of your money on 'Liquid Assets' with no risks as you watch the interest level grow.     Be sure to check out the YouTube video for "Quotables" and you can also purchase 'Liquid Assets' on iTunes at: https://itunes.apple.com/us/album/liquid-assets/id773024157.   GooD HooD is on the rise and the new album is a sure-fire hit!
4.5/5 Skopes
By Jimmy Rae+ (jrae2@att.net)