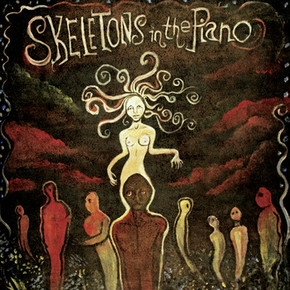 From historic Saratoga Springs NY comes a band — Skeletons in the Piano — capable of both the heaviness of metal and the psychedelic mysticism of The Doors. They have a new album called Please Don't Die, which sounds rather less sinister than their debut: Certain Slow Murder. Skope recently tracked them down to ask a few questions…
 
Your band has a rather striking name. What is its meaning?
As musicians, we try to be as descriptive as possible with our music and the titles we associate with it. With a name like Skeletons in the Piano, we hope to convey the idea of mortality, art, and the black and white nature of things.   But then again, it's just a name, so we hope people can draw their own meanings from it and the music.
 
Saratoga Springs isn't a very highly populated area. Is there a music 'scene' there to speak of?
Yes, the area has an incredible amount of talent.   Working musicians everywhere you look, and it's not uncommon to see them disregarding their own genre and bridging musical gaps at any open mic.   The scene is an incredible eclectic environment, and that leads to a lot of great sounding solo artists and bands.   The area itself is home to a breeding ground of influence, with Saratoga Performing Arts Center bringing in the biggest music acts in the world, and the famous Cafe Lena's which brings the best singer/songwriter, acoustic acts you could only hope to see in the big cities.   Being so close to Albany, as well as a short trip to NYC, allows the area to be diverse and teeming with raw musical potential few areas have ever achieved.
 
You guys have pretty evident ability, and your songs tend to be rather complex instrumentally…Do you think such complexity might make you guys a bit less "radio friendly"?
We do not believe that 'complexity' makes anyone more or less radio friendly.   As a working band you have to have aspirations to be on the radio, to be heard by the masses.   But that does not discredit the songwriting:   we don't set out to write a 'radio friendly song', but after completing a six or seven minute song, it's nice to write a three minute tune and be able to push it to the radio.
Skeletons in the Piano – "The Price Put on You"
http://www.youtube.com/watch?v=gQ04pdk6Tro
You describe yourselves as "proponents of the psychedelic grunge movement." Might you define 'psychedelic grunge'?
Basically, a progressive rock mentality, with a looser, punk rock approach.   It's ultimately all that mixed with soundscape, and that gives the music its psychedelic mind-bending power.
 
I notice one of your members is listed as a "cosmic dancer." What does that entail?
Well, Katarra started coming to our shows and creating a pulse within our audience, soon after she started showing up to our practices and hasn't missed one.   She blends traditional belly dance with an amalgamation of form to accent all the instrumentation with the movement of her body.   She has been religious in her practice and form, and how she interprets the sounds we make.   Also, we are slightly superstitious and 'cosmic dancer' just sounds right.
 
I sense something tragic about your track "Oh, Rose." Are my senses accurate?
The song is about a feeling of extreme happiness, and then losing that happiness.   You endure that loss with the knowledge of "I'll see you in the next one".   So it really isn't tragic, because nothing is fatal.
You have a new album this year. Care to describe it ? Is the title, Please Don't Die, in reference to someone specific?
The album takes us from simpler, groovier songs, into tumultuous, progressive song crafting.   The title is not about anyone in particular, but goes back to the feeling of knowing you are in the moment, you are alive; you don't want that moment to end.   But that is just one example: "Please Don't Die" is also asking the impossible of the impossible.
 
Where can people purchase your new album?
Online you can find it on:
iTunes: https://itunes.apple.com/us/album/please-dont-die/id633531852
or Amazon, CDBaby, or the like.   ( We are also on Spotify)
Also from Bandcamp: http://magneticeyerecords.bandcamp.com/album/please-dont-die
Our VINYL can be purchased through our label, Magnetic Eye Records at: http://www.frsts.com
But come see us LIVE.   We always have copies of the album on hand, in digital, vinyl, or CD (exclusive to live shows).   You can find where and when we play next at: http://www.skeletonsinthepiano.com
 
Anything else you care to share?
We bring live dance, live art created in real time during show, and silent movie projections to the stage to create a musical experience you may never have seen or heard before.   We aim to create a mood with every song; we aim to cast a spell with every performance; and we are aiming for your head.
 
Ray Cavanaugh – owleyesgatsby@yahoo.com