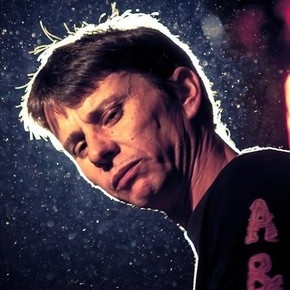 Barbwire Tourniquet are a pop/rock songwriting team that include members from the UK & America. Alan Trickett, Kenney Noguera & Kev Brack. Initially Alan & Kev joined forces to write a few tracks, they hail from Duns, Scotland. Kev (guitars/lyrics), Alan (lyrics). They later teamed up with Kenney Noguera from Conconully, USA. Kenney (guitar).Through collaborating online they put together a collection of songs, their main aim, to pitch them to established artists & actively seek publishing placements within film/Tv/advertising. Kev & Alan's   first track together, was a delightfully titled fast paced "modern punk" style number called "Barbwire Tourniquet", the name stuck!!!!   Initially we wanted to stick at writing mainly "Rock" songs, but soon decided we needed to make them more accessible & more appealing to a wider audience. With musicians/vocalists Chas Evans & Jonathan Wood their song ideas have come to fruition. Barbwire Tourniquet stick to a formula of simple, easily understood lyrics with catchy melodies, hopefully appealing to young & mature audiences alike. We are continually writing & adding new songs regularly.
Skope: The UK always seems to turn out some interesting artists, how would you describe your songs?
Barbwire Tourniquet: Each of our songs are "a bit different". We try not to pigeonhole our songs into one genre. When I think of an artist/group we sound like, I can't really think of anybody really.   The last track has been said to have a "Keith Urban" vibe but "Alcatraz" is possibly more "Nickelback", (if you use some imagination haha). "The Phoenix" definitely has "Bon Jovi" written all over it.
Skope: Your songs are all very different, from pop to hard rock and even some country vibes in there. What artists have been an influence to you as a songwriter?
BT: I myself am influenced by guys like the late great Stuart Adamson, an exceptional guitarist & songwriter. "Chance" is still a favourite track of mine. 80's singer/songwriter Lloyd Cole was another inspiration. Echo & The Bunnymen were another band that are still going strong today. I think the country vibe seen in our last song "My Eyes" is Kenney's influence on the way we aim to go just now. A "country crossover" sound might work well & hopefully lead to some more recognition & might appeal to a wider audience. We won't be solely going down the "country" route though. Our rock tracks like "Crawl", "Alcatraz" & "My Heart's Bleeding" have all been quite well received, so expect more rock as well.
"If You Get My Message"
http://youtu.be/v90GuR3VTVg
Skope: Congratulations on being ranked No.1 on Reverbnation for your location. What is the music scene like where you're at in Duns, UK?
BT: Obviously we are delighted to be No. 1, but Duns is a small town, not a lot going on music wise. Locally, Easter Street are hoping for bigger, better things. But if you take in The Scottish Borders, then one band springs to mind instantly. Frightened Rabbit are achieving great success both in America & at home.
Skope: How long have you been songwriting and what are your plans with your music?
BT: I am new to songwriting, having just started writing less than 2 years ago. Kev has been at it for a lot longer & fronted his own band, not that long ago. "Morfsnud" have since called it a day, but some of our songs were written by Kev earlier & have been "resurrected" & taken down a more pop-rock route than they were perhaps originally intended. Kev is the "rebel" amongst us, I am sure he would prefer a more "rock sound" having grown up on a diet of The Ramones & The Sex Pistols, and now listening to current artists like Jake Bugg.
Skope: Being a songwriter instead of a performer, does it affect the way you write your songs?
BT: As we do not perform, it is difficult to gain a fan following. Hopefully pitching songs to established artists or any up & coming band, will get us some recognition as songwriters. No harm in dreaming the dream. We have had some minor successes with online placements, but still search the "big one"! Not that we are kidding ourselves we are going to "make it", but we are having fun along the way. Our songs have all been well received on music sites & songwriting forums.
Skope: Who is in Barbwire Tourniquet and what do they do?
BT: Kev Brack is a guitarist/lyricist. Kenney   Noguera   a guitarist & myself, Alan Trickett solely writes lyrics. Kenney has come up with some great melodies recently, he sends them over to me to add the lyrics. Chas Evans and/or Jonathan Wood supply the final vocals & mix.
Skope: Do you have an album available or do you mainly write singles, which seems to be the focus in this day and age?
BT: As we are not a performing band, we therefore have a small but growing fan base. An album release would probably be a waste of time at this point.
Skope: Where can people find your songs?
BT: We have just about all of our songs posted on our Reverbnation site & on Soundcloud. Always hoping that an established artist (or any new band looking for tracks) will have a listen one day & feel like putting their own spin on them.
CRAWL – https://soundcloud.com/#tigertrick/sets/crawl   (Rock set)
STOLEN KISS – https://soundcloud.com/tigertrick/sets/stolenkiss (pop/rock set)
Skope: Do you find that being a writer instead of being a traditional band enables you to not have to stick to a particular genre?
BT: Yes, being songwriters we are not tied down to genre's or pre-conceived ideas on where the "band" should head really. Even within the "band", there are no real disagreements. We would all probably change little things on each track, but in general, we are happy with the way the songs have turned out.
Skope: You're planning on pitching your songs for film and ad placements which has been successful for many independent artists, myself included. If you could pitch just one song to a publisher, which one would it be and why?
BT: That's where individually, we will all differ. I am coming round to Kenney's way of thinking here. Our latest track "My Eyes" definitely has some country influences & we hope to pitch this & our forthcoming track "Stolen Kiss" to a "country crossover" type publisher/artist & hope for the best. Being UK based, the country genre is not one that I have had much experience in.
We have had some minor placement success through sites like "Broadjam" & "AudioRokit", but hope to achieve some bigger, better placements in the future.
Check out some cool and interesting pop and altrock at http://www.reverbnation.com/barbwiretourniquet
Douglas Garnett – douglas.garnett@gmail.com – http://digdugdisaster.com