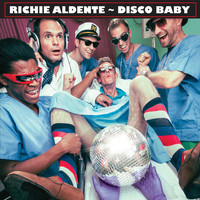 Disco Baby is the followup release from disco pranksters Richie Aldente. Their debut "For The Ladies" established the group as one to watch, and Disco Baby firmly cements them as one of the most original and fun acts to ever come out of post grunge Seattle.
The album kicks off with "Take My Party Serious", a modern electro-disco stomp guaranteed to get any party started off right. Borrowing from 70's disco, 80's pop and new school electrohouse, the band manages to create something unique in a saturated and trendy music market, a feat on it's own merit.
"Lonely Dancer" sings about well, a lonely dancer. lol. It's fun pop fluff in vein of Maroon 5's Payphone or something to that effect. "Reverse Psychology" reminds me of Phil Collins pop heyday in the 80's. Catchy hooks in constant motion, some great horns and a spit by Illspokinn.
"Trust" is next, with it's Autotune floaty vocals and Prince-like hard funk sound, this could be a hit given for disco funk lovers everywhere.
Richie and the gang have done their homework, hitting on just about every aspect of dance music and they state their business on the track "Droptop", defining their style in their own words as 'discomatic electro newage droptop, the hottest shit to make your party pop off'. The lyrics reflect the music industry's lack of vision in the digital age and it sounds like a bad date with a record A&R guy. Disco balls be damned and Charlie's Angels kickin' in the door.
"Black And Tan" has an MGMT sort of intro, and gets bonus points for being one of my favorite beverages of the alcoholic persuasion. Next up is the title track "Disco Baby", which starts off with poetic call to arms for disco babies everywhere, calling out ravers, dancers and discorats to come together and 'lose yourself right now'.
"1+2" is some serious Prince inspired funk. Big horns, legato guitars, reminds me of pre Purple Rain era Prince ala Little Red Corvette.
"Some Guys" is a track about the smooth playas, both ladies and fellas that frequent club life. A breezy keyboard solo highlights the track. "Two People" continues the vibe, like a sequel to "Some Guys".
The album wraps up with "Way Of The World" is about dreaming of fame and being on the radio. With tunes like these, it won't be long before the world is hearing Richie Aldente on radios everywhere. A refreshing reminder that you don't have to follow the herd to be heard.
http://richiealdente.com/music/disco-baby/
Douglas Garnett – douglas.garnett@gmail.com